HP Layoffs as it shrinks its workforce
By Patrick Thibodeau, Computerworld  
HP Layoffs as it shrinks its workforce - HP is expected to announce a large layoff at its quarterly investors briefing on Wednesday. As many as 30,000 employees may be cut. That's almost as many employees as Apple has added in the last two years.
HP hasn't made official any plan to chop its approximately 350,000 employee global workforce. It's not commenting on the reported layoffs, neither confirming nor denying. But the stage is set for action.
Tough Numbers
In its most recent quarter, HP's net revenue of $30 billion was down 7 percent from the prior-year period. Revenue from HP's Personal Systems Group, which sells PCs and workstations, declined 15 percent in that same period.
When Apple was selling iPads by the boatloads, HP was having a $99 closeout sale of the Touchpad, its own tablet.
Apple's global workforce grew from 34,300 in 2009 in to 60,400 in 2011.
Even areas that HP expected to see growth, services in particular, aren't delivering.
HP's big move into services came with its acquisition of EDS in 2008, which instantly added 147,000 employees to the company. In its most recent quarter, services revenue of grew 1 percent year over year.
Andrew Bartels, an analyst at Forrester, doesn't see HP's plans as a bellwether of a larger problem in IT. HP's problem is that it is losing share to Apple, and faces a lot of competition, as are many other firms, from Indian offshore firms.
"Outsourcing jobs at U.S. firms have been lost by shifts to India," said Bartels. That's been offset by the overall growth of outsourcing, but "India has taken its toll.
"HP has been stuck in some slower growth categories overall," said Bartels.
This is potentially a big layoff for the U.S. tech sector. HP doesn't detail how many U.S. workers it has, but the trend at large IT companies, IBM in particular, has been to reduce the size of their U.S. workforce and expand in fast-growing overseas markets.
Some of HP's job cuts may be due to cost-cutting and consolidation, thanks in part to its recently announced decision to combine the printer and PC units. The cut may involve shifting some work to lower-wage countries as well as boosting its presence in healthier economies.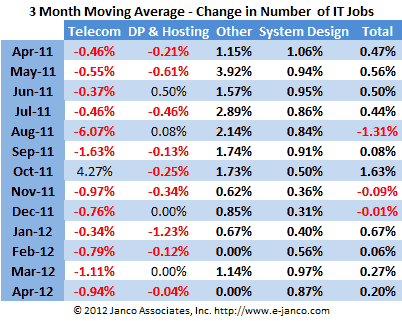 Order Salary Survey Download Sample Provide Data
It is unknown how many of HP's layoffs will be U.S. -based, whether the layoffs will be over a short period or spread out over years. But it doesn't take too many layoffs in the tech sector to have an impact on overall employment.
The TechServe Alliance, an industry group that has been tracking IT employees for years, puts the IT workforce at 4.17 million, and estimates that IT employment grew by 117,000 jobs, or 2.9%, between April 2011 and last month.
Victor Janulaitis, CEO of Janco Associates, a research firm that analyzes IT wage and employment trends, said 20,600 IT jobs were added in the last three months ending in April. He sees a struggling IT hiring market, and said more IT job seekers have stopped looking for work, with participation rates, meaning unemployed and not looking for a job, at the lowest rate since 1980.
Janulaitis believes any HP layoffs could hit IT areas that have been otherwise doing well, such as system and applications design. How affected employees fare post-HP may depend on where they live. Laid-off workers in Palo Alto and Boston will likely get jobs quickly, but in Chicago, Dallas and Arizona that task may be harder, he said.
Janulaitis believes the layoffs may make some companies cautious about hiring. "IT is not just recovering very well," he said.
Bartels believes the problems are specific to HP. "It's more about HP than about the tech sector," he said.