Employment picture for IT Professionals is not improving
A net gain of only 200 jobs in May - versus the 6,600 jobs added in April
Employment picture for IT Professionals is not improving - Janco has found that market for IT Professionals continues to struggle. IT reflects the malaise of the US economy and added only 200 IT jobs in April while the total job market increased by only 69,000 in May versus the 115,000 added in April. In addition, the number of individuals leaving the job market continues to remain at a very low participation rate of 63.8% -- the lowest it has been since 1980.
Order Salary Survey Download Sample Provide Data
In California the overall unemployment rate is 10.9% and Nevada tops that with an unemployment rate of 11.7%. Janco has found that national unemployment rates have a direct impact on the confidence and ability of CIOs to implement new initiatives and expand their staffs. The CEO of Janco, Victor Janulaitis said, "There had been some hope that the job market had turned the corner and that confidence was going to be high. That is not the case; companies continue to pull back as happened with the announced staff reductions at several companies including HP. " He added, "We do not see any change until after the elections and the uncertainty posed by the automatic tax increases in 2013 are addressed - CFOs and CIOs are cautious at best. "
IT Job Market Employment Trends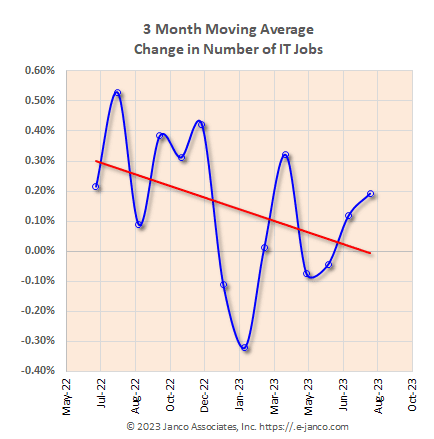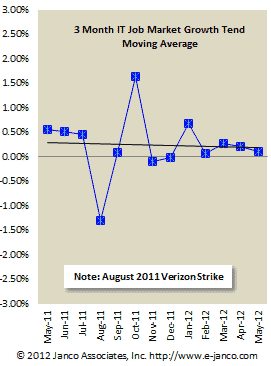 Updated with the latest IT Job Market statistics
Historic IT Job Market Growth Trend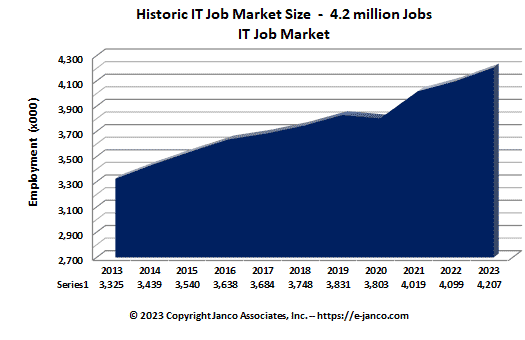 For current analysis of this data, go IT Job Market Size to see the historic job market growth trend data
Data as of September 2023
There was a net increase of 200 seasonally adjusted (gain of 1,700 unadjusted) IT jobs in May according to the latest BLS data. There was an improvement in computer system design and related services accounted of 1,100 jobs (loss of 1,900 unadjusted) which was lower than the gain of 6,600 in April and offset by losses in the other sectors of the IT job market. The losses of were 200 jobs in telecommunications, 700 jobs in data processing hosting, and Other Information Services with no change.
In a continuing survey of CIOs hiring trends Janco has found that CIOs are not as optimistic as they were earlier this year. Many of the CIOs interviewed by Janco do not feel that overall hiring will improve significantly until sometime in 2013. The CEO of Janco, Mr. Victor Janulaitis said, "In telephone interviews in late May of 107 US based CIOs we found that most have some short term needs that are of a 'temporary' nature. CIOs are continuing to keep the overall FTE (full time equivalent) headcounts level and do not see any increase in permanent staffing within the next several months. "   Janco's CEO added, "A few CIOs in selected areas like SF Bay Area and Boston are bullish, however for the most part CIOs continues to remain cautious. "
He added, "One in five CIO's are looking to hire lower level staff within the next 3 months to fill short term needs. Many are looking for contractors and consultants with particular sets of skills to meet the demands of mobile computing. In addition some of these same CIO are looking towards implementation process to allow users to use their own personal devices - BYOD (Bring Your Own Device) - to minimize capital expenditures and improve ROI. "

In the last three (3) month the IT Job market grown by 21,500. This chart is not the originally published one, rather it is updated with the current data based on the analysis by Janco Associates, Inc. For the latest IT Employment Data click here.
---
Health Care vs. Financial Services Job Growth

One of the bright spots during the past few years has been government employment. That seems to be coming to an end with the proposed 2013 federal budget. The current administration proposed a decrease in federal IT spending in 2013, the budget calls for spending $78.8 billion, a 1.2 percent decrease from 2012.
Janco is an international consulting firm that follows issues that concerns CIOs and CFOs and publishes a series of IT and business infrastructure HandiGuides™ and Templates including a Disaster Recovery/Business Continuity Template, Security Template and IT Salary Survey.
Read on Salary Survey Order Salary Survey Download Summary