IT Job Market Experiencing 'Boom'

Data from Janco suggests that the hiring freezes from 2008 have been halted as CIOs begin 2013 looking to hire IT management
IT Job Market Experiencing 'Boom' - The IT job market added 73,500 new jobs in January, according to BLS data from Janco.
Even with the unemployment rate rising to 7.9 percent, the number of new jobs for IT professionals is now at levels high enough for IT mid-level manager and developrs to say IT is in full recovery mode, according to analysis from Janco Associates.
Order Salary Survey Download Sample Provide Data
"According to the data, there has been more than 200,000 IT jobs added in the last three months," said Victor Janulaitis, CEO of Janco Associates. "That level of additional IT employment is robust enough to be called a boom.
"When we looked at the number of IT pros employed and compared that with our own independent survey of 106 CIOs in North America, we can only conclude that the hiring freezes of 2008 through 2012 have been lifted. We are seeing greater demand for mid-level managers and technologists who can address demands placed on CIOs for more Web-enabled applications. "
IT management positions dominate near-term hiring plans, particularly IT middle management—8 percent of CIOs reported middle management hiring plans in that time frame. Within six months to a year, the plans shift focus almost exclusively to filling out IT staffs.
Labor Participation Rate in the low 60's
Inflation is pushing more people back into the active labor market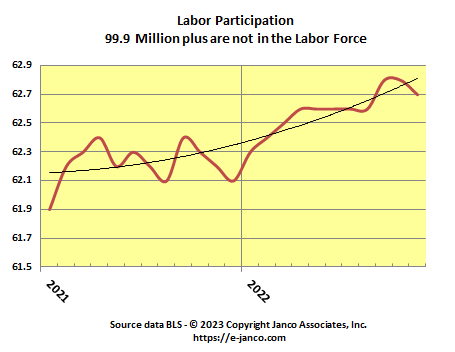 99.9 million people in the U.S. are not counted in the labor force - see reasons why not working.
"However, not all of the news is good," Janulaitis said. "Janco continues to be concerned that the data shows the labor market participation rate remains at record-low levels. Also with taxes increasing on both employer and employee, there is a possibility that the recovery will falter and those new levels could be slowed dramatically. " Janulaitis expanded with the following caveat, "The year-to-year comparison of workforce participation shows how deep a hole we are in. Until those percentages turn around, the overall recovery will be weak at best. If that is the case, then there is a strong possibility that IT demand will be dampened, and overall IT job market size could fall back to the levels of 2010 and 2011. "
In a continuing survey of CIOs, Janco has found many are cautious but feel that overall hiring will improve in 2013. "In telephone interviews in late January of 106 U.S. -based CIOs we found that many are looking to a more interesting future with tax increases, unsure economic future, and unstable world political situation," Janulaitis said. "CIOs are closely managing their overall FTE (full time equivalent) headcount levels and adding staff for critical new developments. CIOs are looking to add back management levels that were eliminated in the recession. In addition, CIOs are looking for particular sets of skills to meet the demands of mobile computing and toward implementation processes which will support users to use their own personal devices. "
---
Updated with Latest Data

---
---

IT Hiring Slows


The latest data for more read on...

Note - data includes the adjustments by the BLS to the initially reported data.

---
Order Salary Survey Download Sample Provide Data