June Data Shows That IT Employment Soars

Both Janco Associates and Foote Partners both agree that there was job growth in the IT Market last month…
by Susan Hall
Victor Janulaitis, CEO of Janco Associates, and David Foote, CEO of Foote Partners, generally look at the monthly Labor Department jobs report and see slightly different things. For June, however, they both see growth in IT jobs.
Overall, the U.S. economy added 195,000 jobs in June.
Janulaitis looks at four categories: computer systems design and related services increased by 7,300 jobs (versus 6,100 in May); data processing, hosting and related services added 1,800 jobs (200 jobs May); telecommunications gained 700 jobs (700 in May); and other information services gained 100 jobs (1,400 in May).
Foote reports that the average monthly IT job growth in the first half of 2013 is up 43 percent from calendar year 2012.
Order Salary Survey Download Sample Provide Data
This chart is not the originally published one, rather it is updated with the current data based on the analysis by Janco Associates, Inc. For the latest IT Employment Data click here.
---
Foote also looks at management and technical consulting, which grew by 8,400 jobs last month (3,200 in May and 39,400 in the past six months). Computer systems design and related services added 30,900 positions in the past six months.
Telecommunications, which has been on a long decline, and the data processing and hosting category had a combined 2,500 new positions in June, though they have been averaging 1,640 for the first five months of the year.
"Based on our interviews with over 96 CIOs in the last 30 days, we concluded that CIOs are not in a great hurry to hire new staff except to meet short-term needs until they see a clear trend as to what is happening with the economy," Janulaitis said. "Sixty-seven percent of the CIOs we interviewed do not see any real push to expand staffing over the next 12 months. "
That more closely jibes with a survey from Robert Half Technology that found that the percentage of CIOs planning to expand their IT departments in the third quarter dropped to 12 percent from 14 percent in the second quarter.
However, according to a Dice survey, 73 percent of hiring managers said they will add staff in the second half of 2013, compared with 64 percent who said so about the first half of the year.
Foote, meanwhile, points to momentum in the IT hiring numbers and managers "clean sheeting" their IT organizations - "substantially refocusing their strategic targets and redefining what is core versus noncore as far as their investments in technology and people. "
---

NOTE: The graphic below is updated with each new IT Salary Survey. The chart compares the data from the period of the survey to prior period.
---
Latest Median IT Salaries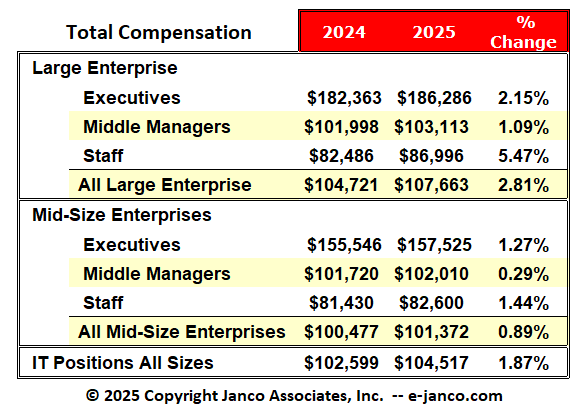 For the latest data go to the current IT Salary Survey
---
Order Salary Survey Download Sample Provide Data