CIOs Plan to Trim Staffs as economy lags
The latest BLS data shows 2,500 IT jobs were added in September. Overall, this represents a slow-down in IT hiring and indicates constraint resulting from 2014 budgeting, according to research from Janco Associates
CIOs Plan to Trim Staffs - There was an improvement in computer systems design and related services of 4,500 jobs, vs. 2,400 added in August; data processing and hosting related services gained 200 jobs, vs. 100 jobs lost in August; telecommunications lost 2,700 jobs, and 3,200 in July; and other information services gained 500 jobs, vs. 2,000 IT jobs added in August.
Historic IT Job Market Size - 4.2 Million Employed as IT Pros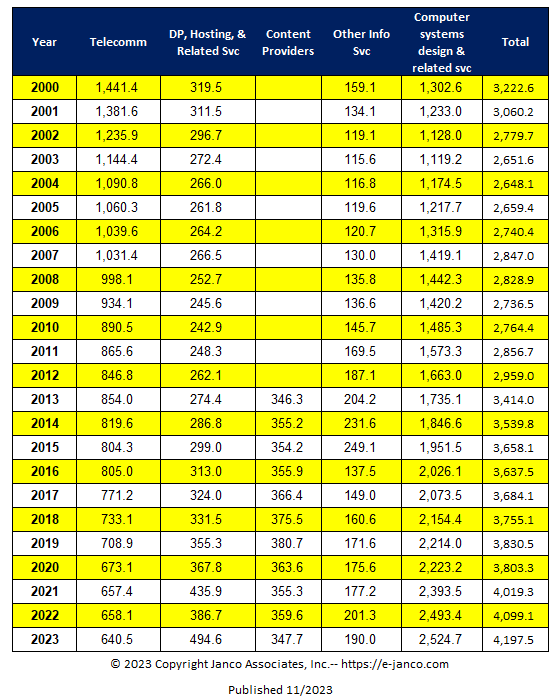 This is not the original data that was published.
It has been updated with data complied by Janco Associates with data as of November 2023.
"Based recent interviews of 94 CIOs in the last 30 days, we concluded that CIOs are again in a mode of controlling spending," said Victor Janulaitis, the CEO of Janco Associates. "In addition, as part of the 2014 budgeting process they are 'constrained' in the number of initiatives that they can plan for in the coming year. There is significant uncertainty in which way the economy is going. More than two-thirds of the CIOs interviewed say that the network infrastructure, which many have not been able to update because of budget limitations, they have in place is making it more difficult to implement new technologies without significantly increasing costs. They all need larger budgets and staff to deal with this. "
However, the three-month moving average points to a worsening of the hiring environment, and the labor market participation rate remained at a 30-year low of 63.2 percent. There are 3.2 million fewer individuals working now than in 2007.
After a strong January (plus 11,700 jobs), job growth in the IT sector dropped drastically in February (plus 4,400 jobs) and then spent the next four months building to June, which saw 11,200 new IT jobs. However, the last three months have seen that number fall fast.
When CIOs were asked about their hiring prospects for next month, as well as the next three, six and 12 months, they were only optimistic about adding more IT staff and only over the course of the next 12 months. In the short-term, CIOs surveyed by Janco plan to trim three categories over the next 30 days: IT senior management, IT staff and contractors/consultants.
While IT hiring continues to lag, the health care job market continues to be a bright spot in the U.S. labor market. Janco noted that the implementation of Electronic Patient Records is one of the driving forces in the increased IT opportunities in this area.
Order Salary Survey Download Sample Provide Data