How to Guide for Cloud Processing and Outsourcing released
Cloud Processing has turned the tables on Outsourcing and CIOs now have more choices and decision that the can make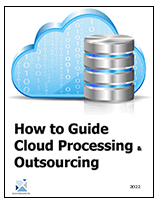 Park City UT - Janco Associates, Inc. (
www.e-janco.com
) has just released the findings of it latest CIO survey and the How to Guide for Cloud Processing and Outsourcing (see
www.e-janco.com/cloud.htm
). The CEO of Janco, Mr. M.V. Janulaitis said, "Cloud processing and Outsourcing are no longer a slam dunk for the CIO. Balancing control, service levels, costs, and risks make these decisions more complex and potential career altering for the CIO and those making them. "
Order Cloud Outsourcing Download Selected Pages
In a recent study of why CIO continue to choose outsourcing, Janco Associates found that 86% of the CIOs are doing it because they need application development support. Janulaitis said, "The downturn has reduced the developmental and project management skill levels of many IT organizations. CIOs who need solutions now have little choice other than outsourcing or cloud solutions. " He added, "The other reasons they chose this option are: infrastructure support, gaining specialized skills, service level improvements, and cost savings."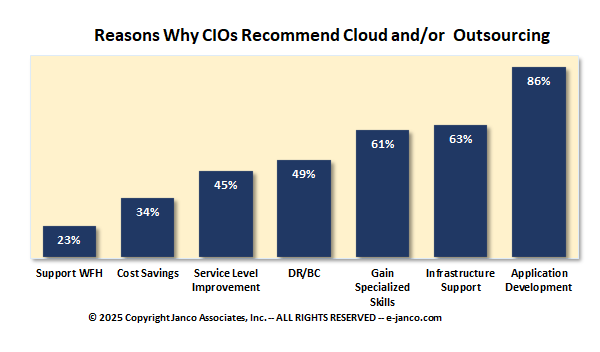 Updated with the latest data from Janco Associates studies
The How to Guide for Cloud Processing and Outsourcing contains over 120 packed pages and includes everything needed to plan for, negotiate, and manage the cloud and outsourcing processes.

The 2021 Edition of the How to Guide for Cloud Processing and Outsourcing contains over 130 packed pages and includes everything needed to plan for, negotiate, and manage the cloud and outsourcing processes - including using the cloud for DR/BC.. The electronic document includes:
Cloud Outsourcing Management Standard Overview of outsourcing, Service Level Agreements and responsibilities
Cloud Outsourcing Policy Standard Policy that can be used to determine when outsourcing is an option
Cloud Outsourcing Approval Standard Process which can be used in approving an outsourcing agreement. Includes a process flow chart on steps to a successful outsourcing agreement
Sample Service Level Agreement Includes several sample service level agreements
Service Level Agreement Metrics Definition of over 150 metrics presented in 18 tables that can be used to manage an outsourcing vendor
Outline for Contract Negotiation  Over 17 pages which issues to be addressed including service to be provided, service level requirements, term of the agreement, enterprise's facilities, enterprise's equipment (owned/leased), intellectual property, third party service providers, IT application project (current / future), responsibilities, training and conversion to mention a few
Base Case Development Detail listing of factors to include
Mutual Non-Disclosure Template that can be used to create an enterprise's own document for use with outsourcing vendors.
Job Descriptions for

Director Disaster Recovery and Business Continuity
Manager Cloud Applications
Manager WFH Support
Cloud Computing Architect
Digital Brand Manager
Capacity Planning Supervisor
Disaster Recovery Coordinator

Electronic Forms

Application and File Server Inventory
Company Asset Employee Control Log
Non-Disclosure Agreement
Outsourcing and Cloud Security Compliance Agreement
Outsourcing Security Compliance Agreement
Work From Home Contact Information
Work From Home IT Checklist

Business & IT Impact Questionnaire - Inventory and assess all application - addresses Sarbanes-Oxley Compliance issues.
ISO 27001 & 27002 Security Process Audit Checklist
The Premium edited comes with 12 full job descriptions detailing individual duties and responsibilities. Both versions of the How to Guide come with or without 12 months of update service. The product is delivered immediately via Janco's proprietary electronic distribution system.
Janco is an international consulting firm that follows issues that concerns CIOs and CFOs and publishes a series of
IT and business infrastructure HandiGuides
® and Templates including a
Disaster Recovery/Business Continuity Template
,
Security Template
and
IT Salary Survey
.