IT Pros with H-1B visas are paid less than US Nationals
Median salary for H-1B IT Pros $85,601 versus $87,072 for all IT Pros
Park City – UT– e-janco.com – IT Pros with H-1B visas are paid less than US Nationals - Janco's has just reviewed data from the U.S. Citizenship and Immigration Service for 2017 H-1B visa holders. In comparing the mean compensation from that data with Janco's 2017 IT Salary Survey, Janco found that H-1B IT professionals had an overall mean compensation ($85,601 vs $86,076 for all H-1Bs) that was less than Janco's industry mean of $87,072.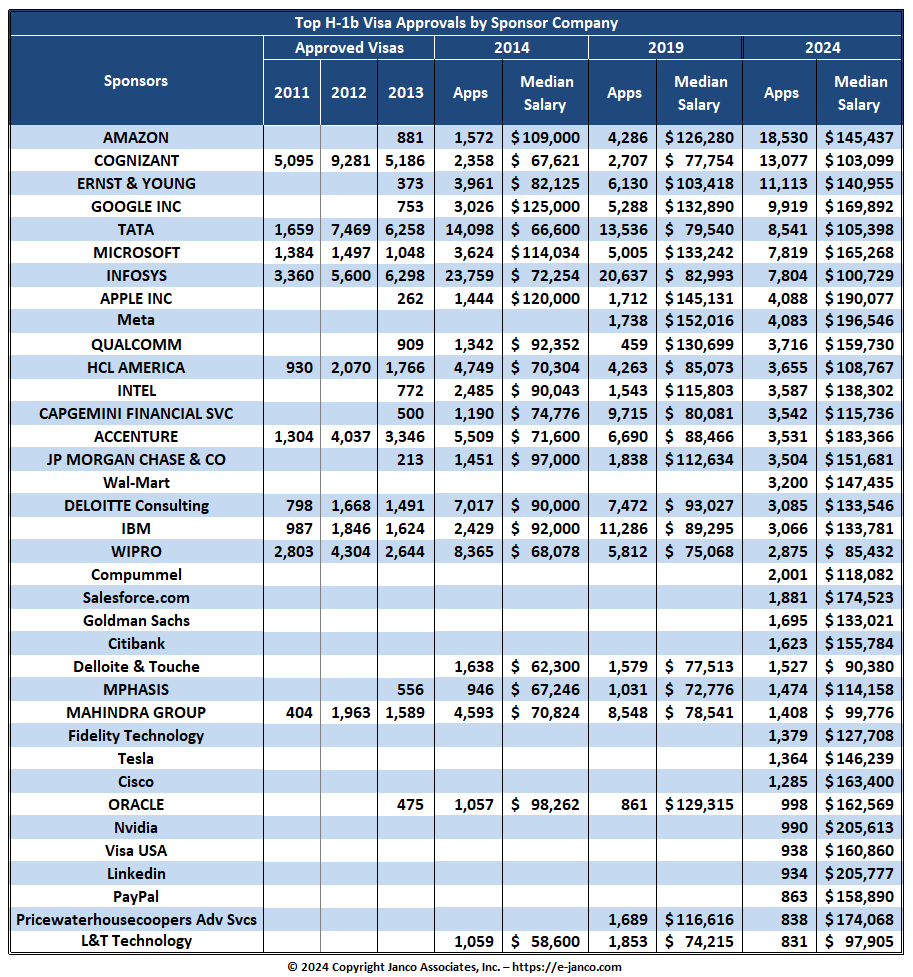 The CEO of Janco, Mr. M. V. Janulaitis said,  "If the purpose of the H-1B program is keeping the best and brightest IT Pros, the current program, it does not seem to be working with companies that are not US based.  For example, Apple has a mean compensation for H-1B holders at $141K, Microsoft and Google at around $129K while Tata and Tech Mahindra (both India based) had mean of around $75K to $76K." The CEO added, "After reviewing the data, our conclusion is the program needs to be re-vamped so that H-1B visa are not used to displace US IT professions with individuals who have the same skill and experience levels but at a lower salary." In addition, he said, "With our forecast of 136,500 new IT jobs to be added in 2017, it is imperative that jobs be available for all of the graduates of US universities who focus of Information Technology if we want to maintain our competitive edge.  Displacing existing workers runs contra to that."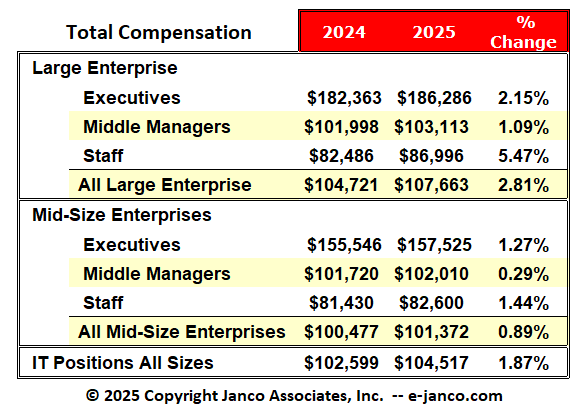 Updated with the latest data
Janulaitis said, "What the program does now is encourage companies to use lower paid workers and eliminate entry level IT jobs that the US workforce needs to gain the necessary experience to drive the US economy.  As a first step, the program should be modified to focus on graduates from US Universities and only the top tier graduates from foreign Universities who want to become permanent US residents."
A more granular analysis of the data showed that 78.5% of all the H-1B visas were issued for IT Jobs. The median compensation for those IT jobs was $85,601. In Janco's January 2017 IT Salary Survey the median compensation for all IT professionals was $87,072.   When comparing the data from IT Salary Survey.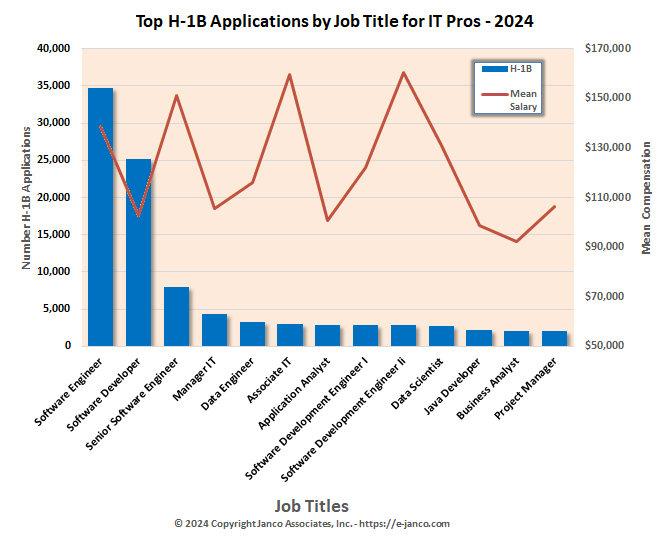 Read on Salary Survey Order Salary Survey Download Summary
Janco is an international consulting firm that follows issues that concern CIOs and CFOs. The firm publishes a series of IT and business Infrastructure HandiGuides® and Templates including IT Infrastructure Policies and Procedures, Disaster Recovery/Business Continuity Template, Security Template, IT Job Descriptions, and its semi-annual IT Salary Survey.