IT Job Market's growth in 2017 will be at least double that of 2016
Median salary for H-1B IT Pros $85,601 versus $87,072 for all IT Pros
Park City – UT– e-janco.com – IT Job Market's growth in 2017 will be at least double that of 2016 - Janco has just reviewed the February data from the BLS on the total labor picture for the US and concludes that IT Job Market growth in 2017 will exceed the growth of 2016.
The CEO of Janco, Mr. M. V. Janulaitis said,  "Many enterprises are actively recruiting and looking to add the skills necessary to support  the new solutions the C-Level executives are demanding.  We already are seeing the strain this is putting CIOs and the HR function of IT." Janco's CEO added, "Requisitions are being re-written to add staff, job descriptions are being updated and sent to HR for compensation adjustments, and relationships with recruiters are being re-activated. All of these activities have re-kindled the career prospects for IT professionals. In addition, he said, "With our forecast of over 125,000 new IT jobs in 2017, this will be one of the best job markets IT pros have seen in years."
Janulaitis said, "In our just released IT Salary Survey (https://e-janco.com/salary.htm) we have seen an up-tick in overall compensation for all IT professionals.  The median compensation is up by $4,000 to $5,000  since we last collected this data in 2016.  The median compensation for all IT professionals now is $87,072 which is 5.19% higher than last year at this time."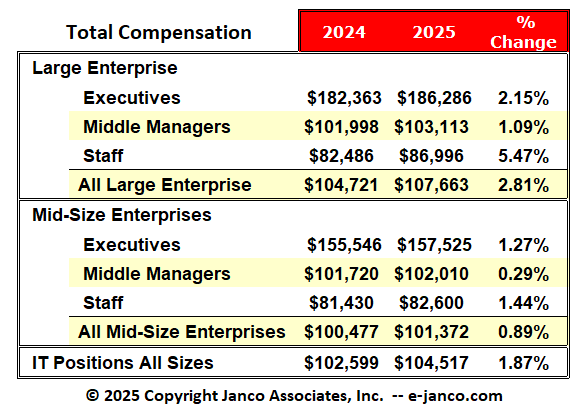 Updated with the latest data
Janulaitis said, "What the program does now is encourage companies to use lower paid workers and eliminate entry level IT jobs that the US workforce needs to gain the necessary experience to drive the US economy.  As a first step, the program should be modified to focus on graduates from US Universities and only the top tier graduates from foreign Universities who want to become permanent US residents."
A more granular analysis of the data showed that 78.5% of all the H-1B visas were issued for IT Jobs. The median compensation for those IT jobs was $85,601. In Janco's January 2017 IT Salary Survey the median compensation for all IT professionals was $87,072.   When comparing the data from IT Salary Survey.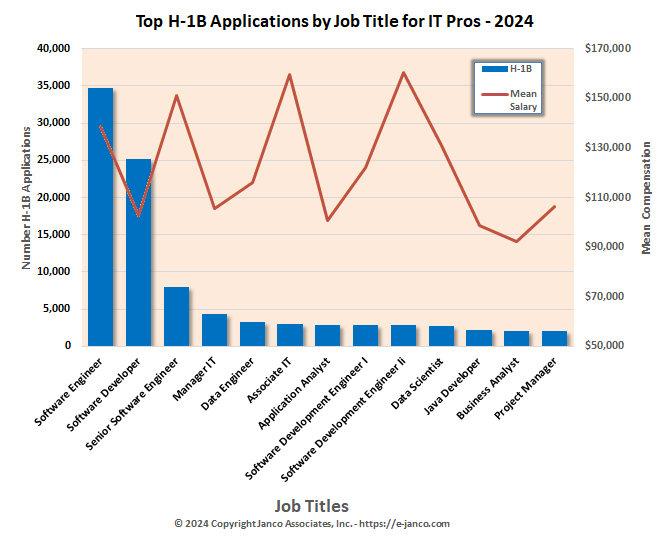 Read on Salary Survey Order Salary Survey Download Summary
Janco is an international consulting firm that follows issues that concern CIOs and CFOs. The firm publishes a series of IT and business Infrastructure HandiGuides® and Templates including IT Infrastructure Policies and Procedures, Disaster Recovery/Business Continuity Template, Security Template, IT Job Descriptions, and its semi-annual IT Salary Survey.