Mid-Year IT Salary Survey released - shows salaries up while hiring slows
Year to year comparisons show IT salaries up by 5.32% and Janco forecasts only 77,000 new IT jobs will be created by end of Q4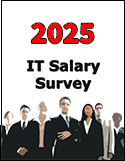 Park City, UT - (e-janco.com) - Mid-Year IT Salary Survey released - shows salaries up while hiring slows - Janco's has just released its Mid-Year IT Salary Survey  and IT Hiring Kit. At the same time Janco has completed its analysis of the latest BLS data.
IT salaries on a year-to-year comparison have risen 5.32%.  The median salary (for the positions surveyed) has gone from $82,775 to $87,175.  Janco forecasts that on average approximately 6,500 new IT jobs will be created each month in 2017 resulting in approximately 77,200 new domestic IT jobs. The CEO of Janco Associates, Inc., Mr. M. Victor Janulaitis said, "The recent election initially created a positive outlook for job growth in general and  Information Technology in particular. However, the 'drama' associated with the conflicts between the President, the media and the Democratic party are eliminating the probabilities  for implementation of the President's policies.  This is turn is causing companies to hold back."
---

NOTE: the table below is updated automatically with the latest IT salaries when a new salary survey is published. That happens every January and June. The historical data is available.
---
Latest Median IT Salaries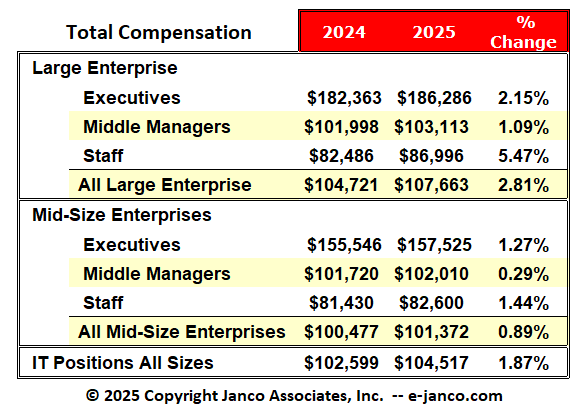 For the latest data go to the current IT Salary Survey
---
Major findings of the 2017 IT Salary Survey are:
Over the long term compensation for IT executives have fared better in large companies than mid-sized companies.
The greatest increases have been at the middle manager levels in mid-sized companies with an increase of 6.65% - most of which can be attributed to performance bonuses and the hiring of significantly more qualified individuals earlier. 
In the first two quarters of 2017, middle management positions in IT organizations of SMB's had the greatest demand for new hires. Companies were gearing up their internal US based IT organizations pushing IT salaries up by 6.65% (from $80,792 June 2016 to $83,964 in June 2017).
IT compensation for all IT Professionals increased by 5.32%. 
The 2017 IT job market started with a bang.  That has slowed. We predict that the IT job market will grow at about the same amount as it did in 2016 when 71,500 new IT jobs were added. IT salary growth will be almost nil for the remainder of the year.
Median CIO tenure has risen by a month to 4 years and 6 months as fewer CIOs moved on to new positions. In addition, retirements of baby boomers seem to have peaked last year. 
Positions in highest demand are associated with security, training, large data center management, big data, distributed/mobile system project management, quality control, BYOD implementation, capacity planning and service level improvement.
On shore outsourcing and H-1B visa jobs have peaked. The America first campaign has resulted in more infrastructure functions being moved in-house.
The CEO of Janco added "With the election campaign proposed stimulus and constraints  on existing regulation by the new administration there would have had a noticeable improvement in new job creation, including IT."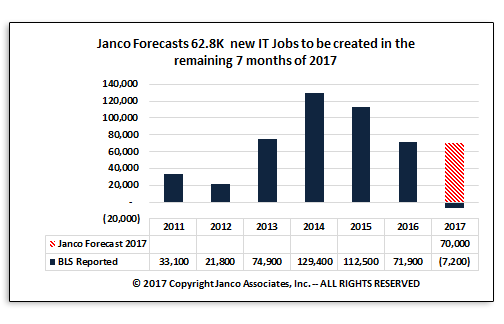 Janco interviewed over 127 (72 after the election) CIOs in the last several weeks as part of its 2017 IT Salary Survey process.  Janco's CEO said, "CIOs interviewed after the election and post-election processes were optimistic that there will be more incentives for increased IT spending and hiring.  It seems the tide has turned and they now feel there will be little chance for improved growth in IT budgets for the remainder of this year." He added, "Hiring prospects are poor at best, especially with the higher salary levels due to the overall increase in IT salaries at the end of last year."

In the last three (3) month the IT Job market grown by 21,500. This chart is not the originally published one, rather it is updated with the current data based on the analysis by Janco Associates, Inc. For the latest IT Employment Data click here.
---
Janco is an international consulting firm that follows issues that concern CIOs and CFOs. The firm publishes a series of IT and business Infrastructure HandiGuides® and Templates including IT Infrastructure Policies and Procedures, Disaster Recovery/Business Continuity Template, Security Template, IT Job Descriptions, and its semi-annual IT Salary Survey.
Read on Salary Survey Order Salary Survey Download Summary