24 States are now at full employment
Last year there were only 15 states at full employment levels at this point in the summer
Park City, UT - 24 States are now at full employment - According to Janco's analysis of the latest BLS state unemployment data, there now are 24 states at a full employment level.  Full employments is defined as an unemployment rate of 4% or less. Last year at the same time there only 15 states which were at that level.  Of the 24 full employment states, only one, South Dakota, had a lower unemployment rate in June of last year.
17 states are at full employment - 4 fewer than last month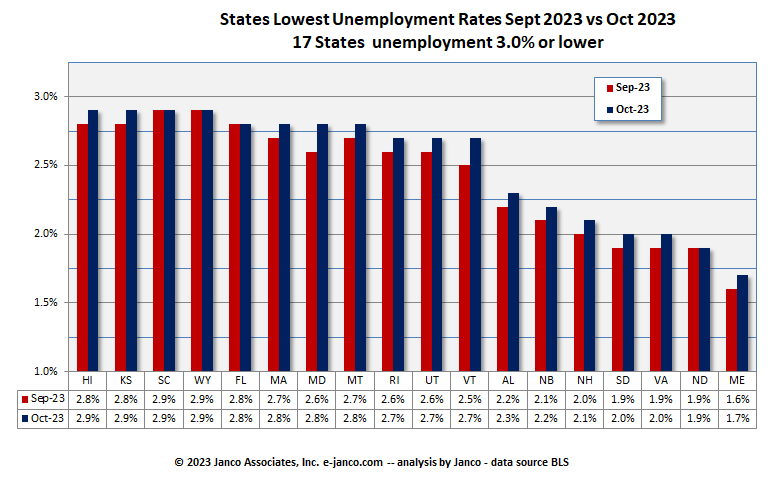 Latest data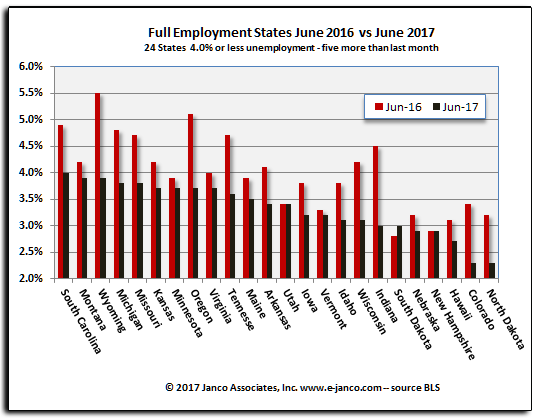 The CEO of Janco Associates, Inc., Mr. M. Victor Janulaitis said, "With such low unemployment rates there will be a significant increase in the salaries that corporations pay for IT Professionals.  With the budgeting process for 2018 in full swing over the new few months, CIOs need to validate they will plan for salary levels which will support maintaining their existing staff as well as having the ability to hire qualified additions."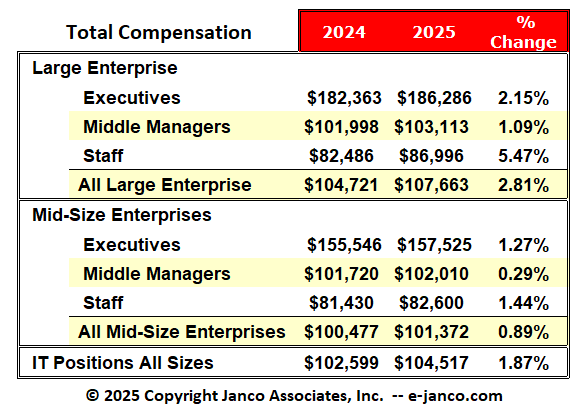 Updated with the latest data
The CEO added, "The median salary for all IT professionals I now $87,175.  Planning for2018 budgets should use that mean as the lowest base point."  See https://e-janco.com/salary.htm  
Major findings of the 2017 Mid Year IT Salary Survey that impact the 2018 budgeting process for IT Professionals are:
The greatest increases in compensation have been at the middle manager levels in mid-sized companies with an increase of 6.65%. 
In the first two quarters of 2017, middle management positions in IT organizations of SMB's had the greatest demand for new hires. Companies were gearing up their internal US based IT organizations pushing IT salaries up by 6.65% (from $80,792 June 2016 to $83,964 in June 2017).
IT compensation for all IT Professionals increased by 5.32%. 
Positions in highest demand are associated with security, training, large data center management, big data, distributed/mobile system project management, quality control, BYOD implementation, capacity planning and service level improvement.
Onshore outsourcing and H-1B visa jobs have peaked. The America first campaign has resulted in more infrastructure functions being moved in-house.
Janco is an international consulting firm that follows issues that concern CIOs and CFOs. The firm publishes a series of IT and business Infrastructure HandiGuides® and Templates including IT Infrastructure Policies and Procedures, Disaster Recovery/Business Continuity Template, Security Template, IT Job Descriptions, and its semi-annual IT Salary Survey.
Read on Salary Survey Order Salary Survey Download Summary