26% of employers use social media to verify resume data
Updating the Interview and Hiring Guide, Janco finds that more than 1 in 4 employers now use social media to verify resume data for IT Pros

Park City, UT - e-janco.com – 26% of employers use social media to verify resume data - Janco has just updated its Interview and Hiring Guide (https://e-janco.com/interview_guide.html).  The Interview and Hiring Guide now comes as an eReader book (ePub), in addition to the traditional MS WORD and PDF formats. Included are two critical electronic forms - Background Check Authorization Form and Interview Questionnaire Form. This product is part of Janco's continuing effort to create a set of standard 'Best Practice' processes and documentation that CIOs can use to better manage the technology function in their enterprises.
The CEO of Janco, Victor Janulaitis said, "It is important for the success of an organization that it find and hire individuals who can succeed. From exit interviews of unsuccessful individuals and reviews with recruiting managers', we have found several reasons why new hires failed: job responsibly nor clearly defined, cultural miss-match, employee does not take direction, employee does not listen, project lost sponsorship/funding, and many more. The Interview Hiring Kit addresses many of these."
The CEO added, "We found that employers now are starting to depend on social media to verify key information that candidates put on their resumes." Janulaitis expanded by saying, "Checking references is still the most used process for verification of candidate specific information, with almost 1 of 2 (46%) using that as a standard practice."  In the review of 450 hires at 78 companies  the verification processes for information on candidates Janco found: checking references 46%; evaluating candidates during the interview process 30%; evaluating candidate's social media persona 26%; checking with employers/schools listed on resumes 17%; asking questions of candidates 6%; probational hiring 4%; reviewing samples of candidates' work 2%; and tests during the hiring process 2%.  The numbers are greater than 100% as many employers had multiple responses for their hires.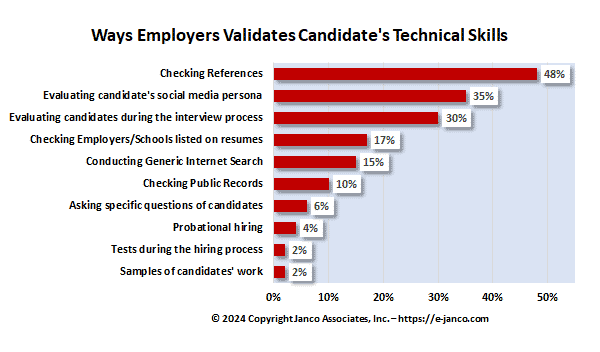 Version 2.0 of the Interview and Hiring Guide contains specific questions that interviews can ask about prior employment, the position the candidate is interviewing for, education and training, remote workers, decision-making and creativity, management and leadership, non-work activities and interests, and questions that should be avoided.  In addition, it provides a list of best practices for screening resumes, phone screening, the top 10 interview best practices, and hiring best practices.
The Interview and Hiring Kit can be purchased separately or with one of the four versions of the IT Hiring Kit with 12 months of update service or 24 months of update service.    
Read on Order Interview Hiring Guide Download Interview Guide Selected Pages
Janco is an international consulting firm that follows issues that concern CIOs and CFOs. The firm publishes a series of IT and business Infrastructure HandiGuides® and Templates including IT Infrastructure Policies and Procedures, Disaster Recovery/Business Continuity Template, Security Template, IT Job Descriptions, and its semi-annual IT Salary Survey.