Top 10 Issues CIOs face are identified by Janco
CIO Management Tool Kit addresses the top 10 issues that CIOs face in 2018
Park City – UT– www.e-janco.com – Top 10 Issues CIOs face are identified - Janco has just released its list of the top 10 issues that CIOs face in 2018 and its CIO Management Tool Kit which directly addresses them. 
The CEO of Janco, Victor Janulaitis said, "CIOs face some daunting challenges this year.  With the recent restructuring of the US Tax code, the reported growth in US corporate earnings, and the projected growth in the total economy  there will be an extensive expansion of IT activities."  The CEO added, "To be successful CIOs and IT Managers will have to manage a number of issues. We have identified ten (10) key issues.  They are: 1) Security and Hacking; 2) Blockchain and Cloud; 3) Mobile Computing; 4) SaaS Demand; 5) Standardization and Integration; 6) Budget Management; 7) Access Management; 8) Identify Protection; 9) International Compliance; and 10) Staffing. To create this list,  Janco surveyed C-Level executives."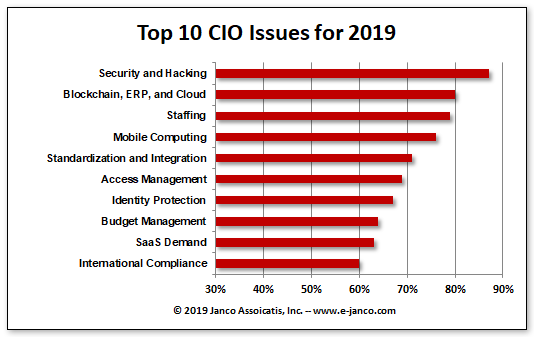 The CIO expanded, "With the CIO Management Tool Kit's we have addressed all of these issues dealing with technology, infrastructure, and staffing. The kit includes everything that CIOs and IT managers need to manage in 2018. In the kit are How to Guide for Cloud and Outsourcing, Security Manual, Infrastructure policies and procedures, detail job descriptions, interview and hiring guide, and the latest IT compensation data."
Each of the components has been updated within the last 90 days. In addition, Janco is continually updating its offerings. As a result, the CIO Management Tool Kit is offered with 12 or 24 months of update service. More information on this offering can be obtained by going to https://www.e-janco.com/CIO_Management_Toolkit.html
Janco is an international consulting firm that follows issues that concern CIOs and CFOs. The firm publishes a series of IT and business Infrastructure HandiGuides® and Templates including IT Infrastructure Policies and Procedures, Disaster Recovery/Business Continuity Template, Security Template, IT Job Descriptions, and its semi-annual IT Salary Survey.