IT Job Market booms with 23,200 new jobs added in the first quarter of 2018
Many jobs have been added for security and mobile devices  with GDPR a critical short-term focus
Park City – UT– e-janco.com – IT Job Market booms with 23,200 new jobs added in the first quarter of 2018 - Hiring is on a definite upswing for IT Pros and acceleration of salaries and contractor rates as many IT jobs go unfilled.  Janco just raised its forecast for new IT jobs to be created in 2018 by 11,000 to 86,000. The CEO of Janco Associates, Inc., Mr. M. Victor Janulaitis said, "The impact of the tax legislation and reduction in regulations continues to drive IT job market growth.  More CFOs have given CIOs the green light to expand staffs.  The prospects for a trade war has not yet had an impact on those plans." He added. "Overall we hear that regulations like GDPR for the EU and cyberattacks are driving the demand for more individuals in security roles and development for mobile device applications which enhance security and processing like blockchain."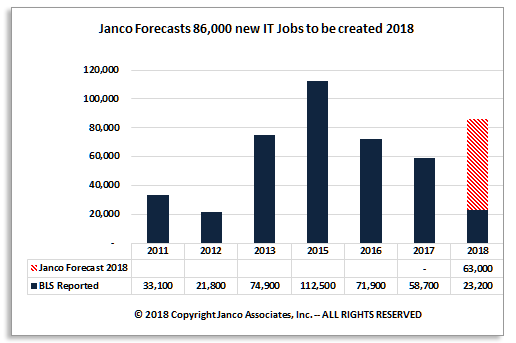 Janulaitis stated, "With 23,200 new IT jobs in the first quarter of this year, we believe that many IT pros who have stayed with their companies through the last several years will begin to look for new and better opportunities.  That will be a major concern for many CIOs and IT Managers." 

The CEO added, "A good example of the increased demand for IT Pros is the demand for Information Security Analyst with many working on GDPR and security complaince issues.  In our review of over 128 large and mid-sized organizations, we found that fully one-third are not yet compliant with GDPR which is required to be in place by the end of May." He added, "With the increased dependence on the Internet and cloud processing the exposure that enterprises face can only be mitigated by filling that role with qualified individuals.  As a result, salaries for experienced Information Security Analysts and the newly required position of Data Protection Officer (for GDPR) are sky-rocketing and are well over $100K."

In the last three (3) month the IT Job market grown by 21,500. This chart is not the originally published one, rather it is updated with the current data based on the analysis by Janco Associates, Inc. For the latest IT Employment Data click here.
---
In support of that demand, Janco has released a 5 plus page job description for the Data Protection Officer and Information Security Analyst.
Janulaitis said, "Most of the C-level executives Janco has interviewed are expecting a booming economy.  They are planning for extensive growth and expansion.  The only part of the IT job market that is not doing well is that of telecommunications sector which has lost over 21,500 jobs in the last 12 months."
Janco is an international consulting firm that follows issues that concern CIOs and CFOs. The firm publishes a series of IT and business Infrastructure HandiGuides® and Templates including IT Infrastructure Policies and Procedures, Disaster Recovery/Business Continuity Template, Security Template, IT Job Descriptions, and its semi-annual IT Salary Survey.