Definitive How to Guide for Cloud Processing and Outsourcing has been released by Janco
Cloud Processing has turned the tables on Outsourcing - CIOs now have more issues to address, choices to make, and strategies to address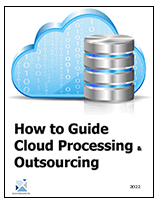 Park City – UT– www.e-janco.com – Janco Associates, Inc. has just released the definitive How to Guide for Cloud Processing and Outsourcing (see https://www.e-janco.com/cloud.htm). The CEO of Janco, Mr. M.V. Janulaitis said, "Cloud processing and Outsourcing are no longer a slam dunk for the CIO.  Balancing control, service levels, KPI metrics, costs, compliance, and risks make these decisions more complex and potential career altering for the CIO and those making these decisions."
In a recent study of why CIO continue to choose outsourcing, Janco Associates found that 86% of the CIOs are doing it because they need more resources and skills than they have available. Janulaitis said, "The current economic climate is driving this.  That along with an IT job market that is tight are key components of the accelerated move to the Cloud (and outsourcing).  CIOs need solutions now and have little choice other the cloud." He added, "Other contributing factors are: need for better infrastructure support, service level demands, and competitive market pressures."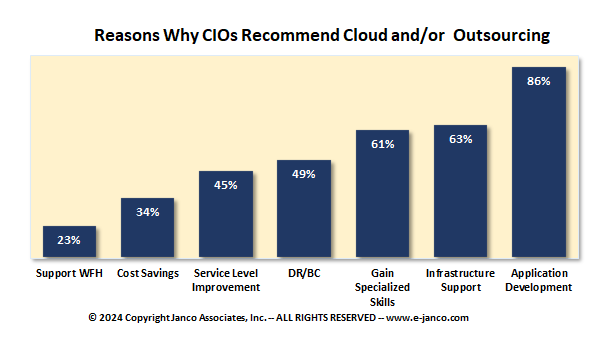 The guide contains critical checklists for Cloud/Outsourcing Security with an eye to the future in addition to the traditional Security Audit checklists. These tools meet all mandated requirements from GDPR to ISO.  KPI metrics are provided with appropriate Service Level Agreement samples.
The How to Guide for Cloud Processing and Outsourcing contains over one hundred packed pages and includes everything needed to plan for, negotiate, and manage the cloud and outsourcing processes.
The CEO added: "Three full job descriptions are included which organizations need to consider when moving into cloud and outsource processing.  They are the Digital Brand Manager, Manager Cloud applications, Cloud Computing Architect.  In addition, the guide contains Cloud Outsourcing Policy Standard Policy; Cloud Outsourcing Approval Standard Process; Sample Service Level Agreement; Service Level Agreement Metrics Definition; Outline for Contract Negotiation; Base Case Development Detail; Mutual Non-Disclosure Template; Job Description for Digital Brand Manager, Manager Cloud Applications; and Cloud Computing Architect. In addition, the Business & IT Impact Questionnaire; and ISO 27001 & 27002 Security Process Audit Checklist.
The How to Guide can be acquired with update service for 12 or 24 months.  The Guide has a starting list price of $499.  The product is delivered immediately via Janco's proprietary electronic distribution system.
Janco is an international consulting firm that follows issues that concern CIOs and CFOs. The firm publishes a series of IT and business Infrastructure HandiGuides® and Templates including IT Infrastructure Policies and Procedures, Disaster Recovery/Business Continuity Template, Security Template, IT Job Descriptions, and its semi-annual IT Salary Survey.
Cloud Outsourcing Template Read On