Blockchain Related Salaries



The Blockchain applications commands big salaries, with top Blockchain and ERP related jobs can be expected to earn more than $200,000 heading into 2019. Starting salaries for an experienced ERP Data Engineer can be well over $200K. Even a experienced Data Reporting Analyst can command over $110K.
With all of that Janco has found that the median salaries for all IT professionals is close to $100K. See charts below.
Blockchain Developer Read On Order Blockchain Developer Job Description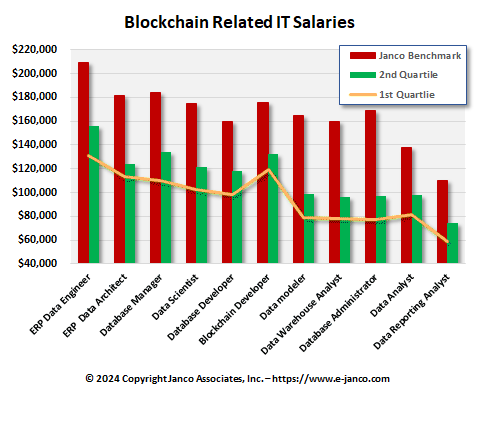 Updated with Janco's latest compensation data
ERP and Blockchain jobs are in great demand. Individuals can look forward to salaries continuing to increase. The median salary for a Blockchain Developer is $127K with experienced individuals commanding upwards of $172K when they move to new organizations.
Janco Associates has published its 2019 IT Salary Survey, looking at what leading job roles are paid. In the area of data management, big data engineers still rule, with top professionals now earning more than $200,000 annually. The guide breaks down salary expectations at benchmark levels, median salaries, and quartiles - which admittedly reveal a wide range on the salary chart.
---

NOTE: The graphic below is updated with each new IT Salary Survey. The chart compares the data from the period of the survey to prior period.
---
Latest Median IT Salaries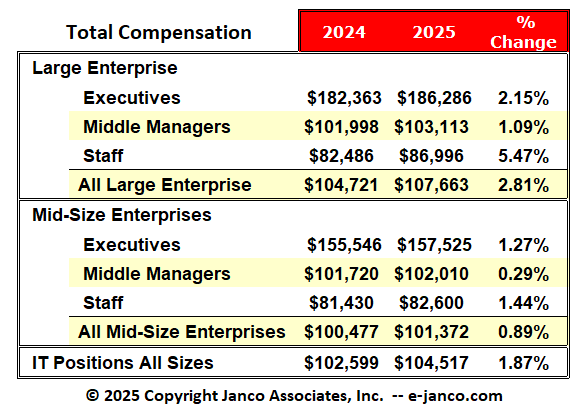 For the latest data go to the current IT Salary Survey
---
Read on Salary Survey Order Salary Survey Download Summary