Blockchain Developer - Job Description



The Blockchain developer is responsible for developing innovative solutions to challenging problems, including command and control and high integrity solutions. Perform complex analysis, design, development, testing, and debugging of computer software for distinct product hardware or technical service lines of businesses. Perform software design, operating architecture integration, and computer system selection. Operate on multiple systems and apply knowledge of one or more platforms and programming languages.
The Blockchain developer is challenged with legacy infrastructure that will be the main obstacle to successful implementations. This is coupled with the challenges of technical understanding – the practicality of implementing decentralized cryptosystems that fall outside of the traditional IT development skill-set.
Blockchain Developer Accountabilities
Janco has identified and document over 25 specific accountabilities for an individual in this role. Below are 5 of them:
Design groundbreaking software products with an eye toward compliance.
The subject-matter expert (SME) for the Blockchain applications including a knowledge of the top partners that make up our Blockchain segment globally.
Own the execution of the strategic plan for each market segment, which includes aligning with partner development managers who manage our top technology and consulting partners focused on Blockchain, maximizing influenced revenue driven with and through partners
Working with partner development managers, build C-level relationships with our top partners and generate interest in new programs focused on Dev Ops/Tools
Represent the partner strategy for Blockchain to our internal and external stakeholders including the  sales teams as well as media coverage and industry events focused on the Blockchain segment
The full list are contained in the job description which can be purchased separately or with the full set of IT job descriptions.
Order Blockchain Developer Job Description
Read on for Salary Information for Blockchain jobs.
Job Descriptions for every IT position
The job descriptions created by Janco's executive consultants have taken these changes in role into consideration when the job description for the Blockchain developer was created. The Blockchain developer job description is over several pages in length.
You can purchase this book as a PDF Book, Word Book or as individual word files for each Job Description (in Word .docx format) which makes for easier modification. We have also combined the both book formats with the individual word files for each job descriptions to give you the best of both worlds.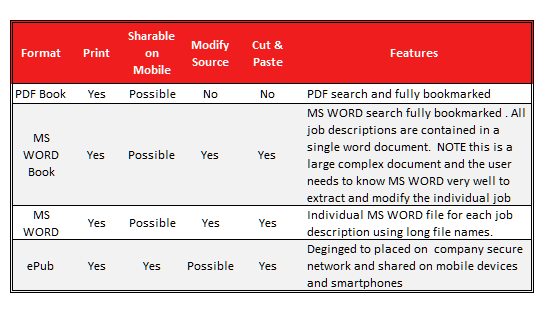 Order IT Job Description HandiGuide Sample Description Download TOC