Web3 Blockchain Job Description Bundle
The process of recruiting and retaining top Blockchain Talent is driven by the quality and level of detail in the job descriptions. Blockchain and Distributed Ledger Processing technology are among the most in demand professionals. In many enterprises they are the hardest to find and the most expensive staffing.
Order Web3 Blockchain Job Description Bundle
Blockchain Positions Included
The bundle comes as individual MS WORD files that are easily edited. In addition, all of the job descriptions are included in a single pdf document and an eReader document that can be shared across an enterprise's Intranet -- not the Internet.
The positions are:
Vice President Strategy and Architecture
Director Electronic Commerce
Manager Blockchain Architecture
Manager Database
Manager DevOps
Project Manager Blockchain
Project Manager Enterprise Resource Planning (ERP)
Project Manager Enterprise Architecture
Blockchain Analyst
Blockchain Developer
Database Administrator
Web3 Developer
Web3 Analyst
Included in this bundle are positions in middle and senior levels that are directly impacted by a Blockchain effort. There are others that we will add, especially in the compliance and finance disciplines.
Salaries for Blockchain Related Positions
The salaries for individuals in the Blockchain and the Distributed Leger Processing arena are among the highest for IT Professionals.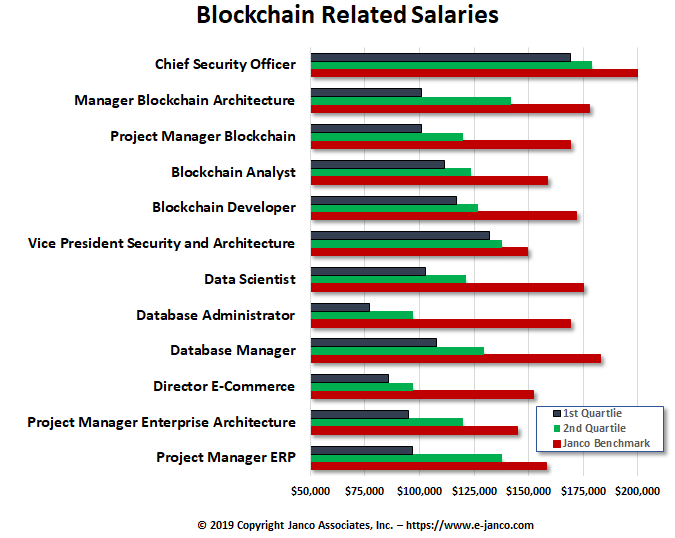 Order Web3 Blockchain Job Description Bundle
NOTE: To see more information on salaries go to
IT Salary Survey
.