IT Job Market and US National Employment Data
IT job market prospects are tied to the US national employment data -- Janco predicts that approximately 96,100 net new IT jobs will be created in 2019
IT Job Market and US National Employment Data - On a monthly basis - typically on the first Friday of the month - Janco publishes an analysis of the IT Job Market utilizing the BLS labor data and its proprietary data. See the latest press clipping go to Janco's Press Clippings and eJobDescription.com.
The salary survey is updated twice a year; once in January and then again in July. Janco and eJobDescription.com not only look at base salaries, they also report on total compensation and hiring trends for IT professionals.
Order Salary Survey Download Sample Provide Data
You can get a free copy of the full survey if you provide 10 valid data points and use a corporate e-mail address. Free e-mail accounts like gmail or yahoo do not qualify as we have no way to verify the accuracy of the data provided.
IT Job Market growth was greater in September 2019 than the same month in 2018
With the existing business climate in the U.S., we forecast that as total of approximately over 96,100 new IT jobs will be created in calendar year 2019.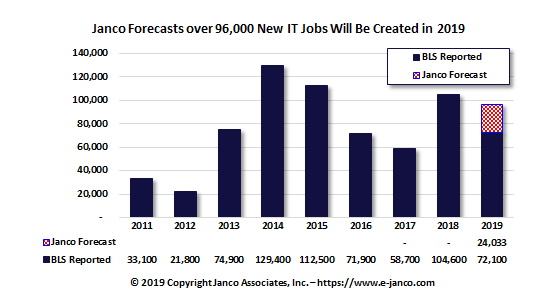 Historical IT Job Market Growth
104,600 new new IT Jobs were added in 2018 versus 58,700 in 2017. That dramatic increase is one of the primary reasons that total compensation has risen for most IT professionals.
The rate of hiring is still high for IT Pros. The change in that rate of increase continues to be on an upward trend. Many IT organization now are focusing on the integration the new hires into their organizations.
When the final 2018 BLS number of IT jobs is compared with 2017 there were 45,900 more new IT jobs created in 2018 than 2017. The turnaround in the economy was the primary driver, as companies were significantly more bullish with the tax cuts and fewer regulations. In the first 8 months of 2019 68,800 new jobs were created. That brings the size of the IT job market to just over 3.6 million positions - and growing.

See IT Job Families
Hiring Plans for IT Professionals
Many CIOs are beginning to be concerned about the economy. With the recent moves in the Stock Market and the slowing of China's economy there is a possibility that hiring may slow for IT professionals. The hiring picture is much more optimistic for IT Pros. However, demand for contractors and consultants is slowing due to economic uncertainty.
Based on Janco's interviews and survey data the following positions are in high demand.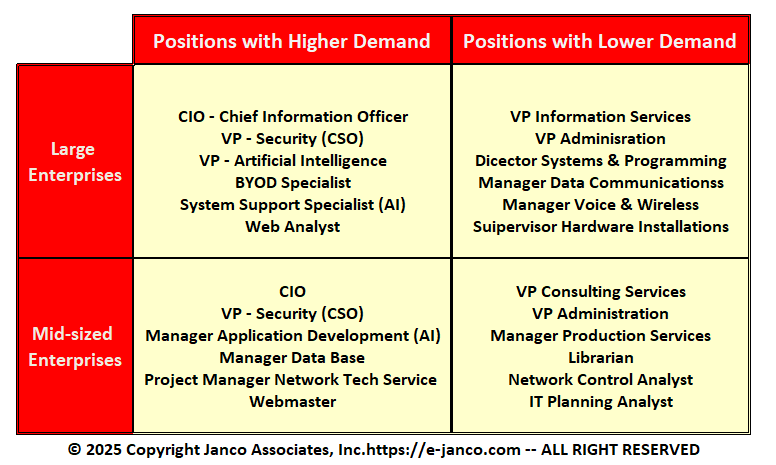 Approximately 85,000 undergraduate degrees are issued for majors in Information Technology. Read on about Career Opportunities
U.S. Department of Labor National Employment Report
---
IT job market size increased in September with 1,500 new jobs and 103,000 jobs added in the last 12 months.
The BLS reclassified jobs that are in the Telecommunication to Computer Systems Design and related services which is why the individual classifications show a large change last year.

In interviews with both CIOs and HR professionals since the election, Janco has found CIOs to be more optimistic about the probability of increased IT spending and hiring.
CIOs say short term hiring and long term prospects are improving
Job growth in the IT job market growth increased again in September. There has been a slowing in the rate of increase and salaries increases have slowed as well.
The three month moving average for IT job market growth trend for IT Professionals is up slightly. That metric is the change rate in increase and/or decrease in the total number of new hires. What it means is that CIO and HR recruiters are continuing to hire at a rate that is higher than in prior months. When that metric falls below zero then hiring demand will fall back to previous levels.
Janco's CIO Hiring Plan Forecast, for the time being, remain high. Many IT organizations still have open requisitions for IT pros that they are not able to fill because of the lack of good candidates. The number of positions filled at the staff level in prior months was high and IT departments are focusing in on absorbing new IT pros that were hired and are adding as many new positions in the short term.
IT Job Market Employment Trends
The IT job market grew by 1,500 jobs last month. Over the past 12 months 103,000 IT jobs were created according to the latest BLS data. Telecommunication continues to be a drag on the job market for IT Pros as 28,200 jobs were lost in the last 12 months.
The impact of the "trade war" does not seem to be great at this time. However the decline in the stock market and the slowing of China's economy is causing some concern.
It is very clear that telecommunication professionals are in a shrinking job market -- there is no end in sight. For the first time in several quarters the Telecom job market was flat , with no jobs lost. However Verizon has started another reduction in force program as it moves into the next generation of automation.

Prior Months IT Job Market Changes Adjustments.
Adjustments to the number of IT jobs created were made by the BLS for the prior two months. A total of 1,800 job were adjusted upward from the BLS data previously reported. That is a minor adjustment.
Labor Force Participation
The work force participation percentage of all employees (male and female) is 63.2%. There are 95.694 million people who are not in the labor force.
The Labor Force Participation percentage has stabilized at one of it lowest points in the last 50 years. The short term trend line is positive.
Labor Participation Rate in the low 60's
95.694 million people in the U.S. are not working - see reasons why not working. Over the last 36 months the overall trend is upward ever so slightly.
The overall unemployment rate fell while the labor participation rate remained the same in September 2019. That is a very favorable sign. More people are entering the labor market.
However, there are rumblings that a recession is just beyond the horizon are getting louder. Reasons why people are not in the labor force are varied.
US National Employment
The US National unemployment rate has fallen from its peak levels in 2012 to the current levels. However this needs to be tempered with the fact that the labor market participation rate remains at the lowest it has been in over 30 years.
Since the change of administrations, job growth seems to be on an upward trend. IT job growth has been positive 12 out of 12 months.
State Unemployment
The National unemployment data provides a measure of the health of the over-all labor market. A more granular metric is one that considers local condition - i.e. state and local unemployment.
In August 2019 unemployment that were high (over 5.4%) in both Alaska and the District of Columbia. But in DC, employment improved by 0.1%.
In August 2019 there were 2 states with an unemployment rate of 5.4% or above. That is the same as it was last month.
States with the Lowest Unemployment -- Full Employment States
Several states have very low unemployment rates. In July there were 35 states that we considered high unemployment states. That is an increase of one state.
H-1B Visas
Offshore outsourcing companies continued to make up the majority of the top H-1B visa applications according to new government data. These offshore firms have been adding employees by the thousands as their revenues increase. Infosys (India based) led the list in 2014 with 23,759 visa applications with a median salary for those positions $72,254, edging out Tata (India based) which had 14,098 visa requests-with a median salary for those positions $66,600.
In 2018 Infosys still lead the pack, but with fewer employees than in 2014. The median salary they paid was $82,993 -- almost $10,000 more than in 2014.
Over $15 billion dollars were paid to H-1B visa holders in 2018 with a median salary of $91,604.04
The median slay paid to the 2018 visa holders as lower than the median salary paid to all US IT professionals. That was $93,077.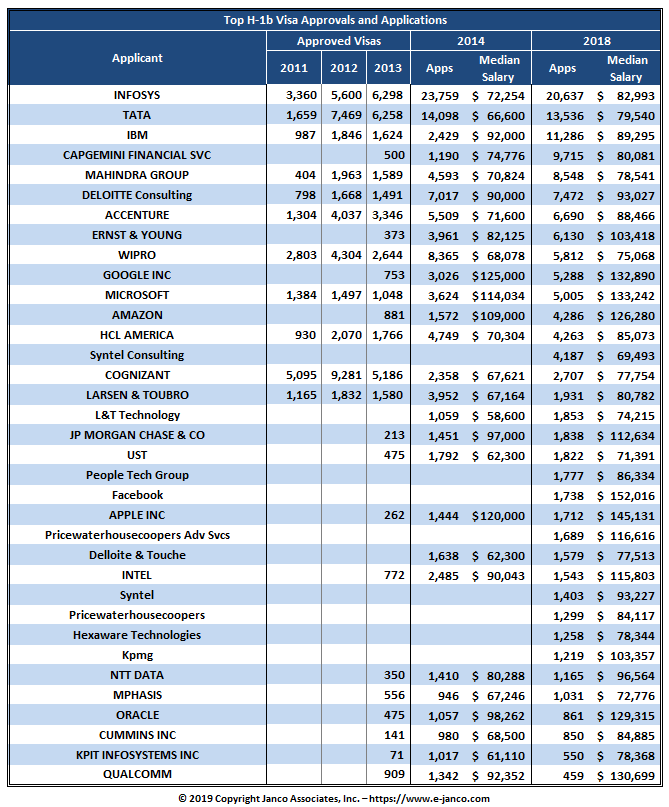 US Federal Government Compensation Cap
US Federal Regulations set limits on how much companies can get reimbursed for the salaries they compensate their management. Companies can pay more, but cannot charge the government for the amounts paid above the limit. For many years, the caps only applied to the top 5 executives, but the rule changed in December 2011, and now the cap applies to all employees, not just the top 5 executives.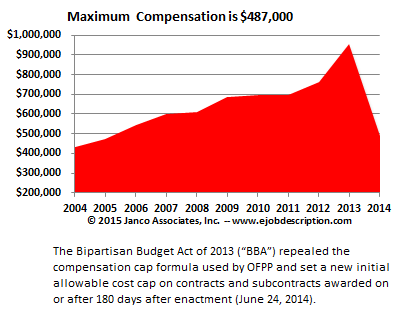 ---
Order Salary Survey Download Sample Provide Data
If you provide ten or more job title data points you will qualify to get a free copy of the full study. If you have any questions on the survey send us an e-mail at Janco Associates, Inc.