Interview Hiring Guide - How To Excel in the Hiring Process
Includes Best Practices for Recruiting and Hiring - Just added two key job descriptions
Interview Hiring Guide - How To Excel in the Hiring Process - Plus included are the TOP 10 Interviewing Best Practices and an Electronic Form to Document the Interview. Just added in the 2021 Edition are questions that the interviewer should ask for positions that be WFH.
With the latest edition two complete job descriptions for HR professionals are included. The job description are Manager Human Resources and Human Resources specialist.
Includes two (2) electronic forms - Background Check Authorization Form and Interview Questionnaire Form - Also comes as an ePub eReader book for mobile devices.
Ponder for a moment the last person you hired. After you selected them, did they work out as intended? Or did they turn into somebody totally unlike what you thought when you interviewed them?
The most important aspect of any business is recruiting, selecting, and retaining top people. Research shows those organizations that spend more time recruiting high-caliber people earn 22% higher return to shareholders than their industry peers. However, most employers do a miserable job selecting people. Many companies rely on outdated and ineffective interviewing and hiring techniques. This critical responsibility sometimes gets the least emphasis.
The job interview is the driving force in the employee selection process. While the job interview may not deserve all of the attention that the job interview receives, it is still a powerful force in hiring.
---
Ways to verify candidate's information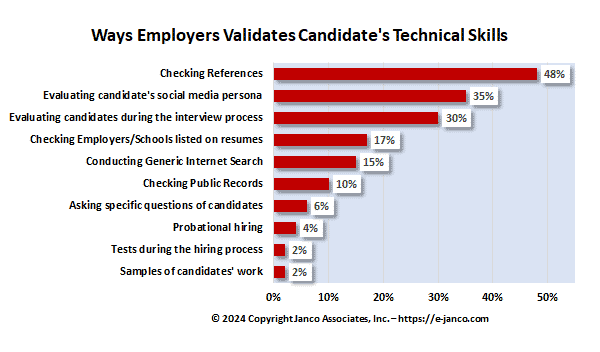 ---
Other background checking and work history references provide much less personalized and more factual information, and hopefully, you have added these checks to your hiring decisions, too. But the job interview remains key to assessing the candidate's cultural fit. The job interview remains the tool you can use to get to know your candidate on a more personal basis. The job interview process helps other employees "own" the new employee who joins your organization.
Order Interview Hiring Guide Download Interview Guide Selected Pages
Hiring and interviewing is both art and science. Refusing to improve this vital process will almost always guarantee you will be spending money and time hiring the wrong people. Here are several reasons why traditional techniques are inadequate:
The majority of applicants "exaggerate" to get a job
Most hiring decisions are made by intuition during the first few minutes of the interview
Two out of three hires prove to be a bad fit within the first year on the job
Most interviewers are not properly trained nor do they like to interview applicants
Excellent employees are misplaced and grow frustrated in jobs where they are unable to utilize their strengths
Hire the best and avoid the rest
A Fortune 100 CEO said, "A world-class engineer with five peers can out produce 200 regular engineers. " Instead of waiting for people to apply for jobs, top organizations spend more time looking for high-caliber people. An effective selection and interviewing process follows the process defined in Janco's Interview and Hiring Guide.
How to pick the right people is the focus of Janco's Interview and Hiring Guide. Your managers will learn how to conduct thorough, goal-oriented interviews and to make successful hiring decisions every time. They are shown how to build a positive connection with the candidate, penetrate even the strongest presentation, interview candidates from increasingly diverse backgrounds, and to present information persuasively so top candidates will accept your offers.
Interview and Hiring Guide - the must have tool
Included in the Guide are specific questions to ask in several areas including:
Prior employment
Position the candidate is interviewing for
Education and training
If this is a position that could be WFH
Decision-making and creativity
Management and leadership
Non-work activities and interests
Questions that should be avoided
To make the recruiting and interviewing process meet the criteria set by world-class organizations, included are:
Questions the interviewer should be prepared to answer
Screening resumes best practices
Phone screening best practices
Interview top 10 best practices
Hiring best practices
Also included are electronic forms for:
Interview Questionnaire
Background Check Authorization
The Guide comes in MS Word, ePub (eReader), and PDF formats
Order Interview Hiring Guide Download Interview Guide Selected Pages
For additional information go to: