Work From Home (WFH) & Telecommuting Policy for Home and Mobile Workers
Work From Home (WFM) & Telecommuting Policy for Mobile Workers and Others now includes electronic forms to simplify the management process. The forms are:
Company Asset Employee Control Log - Enterprise Owned Equipment
Internet and Electronic Communication Agreement
Mobile Device Access and Use Agreement
Mobile Device Security and Compliance Checklist
Privacy Policy Compliance Agreement
Remote Location Contact Information
Safety Checklist - Work at Alternative Location
Security Access Application Mobile
Sensitive Information Policy Compliance Agreement
Social Networking Policy Compliance Agreement
Telecommuting IT Checklist
Telecommuting Work Agreement
Text Messaging Sensitive Information Agreement
Work From Home Contact Administration
Work From Home IT Checklist
Work From Home Work Agreement
Also included is a full job descriptions for the Manager WFH Support and Manager Telecommuting.
Order WFH & Telecommuting Policy Download Selected Pages
Telecommuting is a popular alternative to making the drive in to work every day. If your users are asking about telecommuting to work, you may find that a telecommuting policy helps makes things clear to them.
---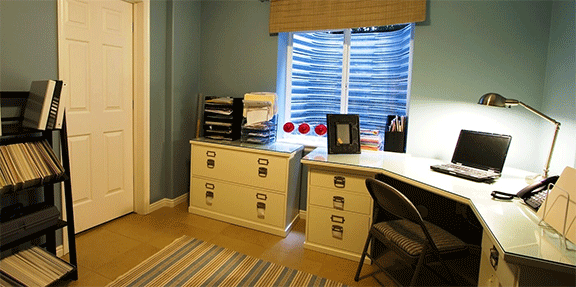 With WFH and telecommuting, companies have added responsibilities to see the new workplace complies with mandated OSHA Safety rules
---
With the rise of the Internet, and the increase in affordable bandwidth comes a new type of worker, the telecommuter. Available technologies have allowed most companies to offer the ability for certain employees to work from home instead of the office. This not only benefits the employee, but also the company itself. As more and more employees clamor for the ability to telecommute, it is imperative for companies to implement a viable telecommuting policy.
WFH & Telecommuting environment
A growing number of enterprise employees now are telecommuting - ranging from ad hoc work from home due to the pandemic and temporary family situations to full-time telework/home work arrangements. In fact, a recent survey found that 87% of the North American and European enterprises (companies with 1,000 or more employees) responded that a significant portion of employees spend 20% or more of their working time telecommuting or working away from the office
More North American than European enterprises support regular telecommuting. On average, 17% of employees at North American enterprises report having employees who spend at least 20% of their work time away from their normal work desk or work from home. This compares with an average of 14% of employees at the European enterprises.
European employers are more conservative than others about telecommuting.
Size doesn't play a big role in an enterprise's decision to support telecommuting. At companies with between 1,000 and 4,999 employees surveyed last year, an average of 16% of employees telecommute one or more days per week, compared with an average of 14% of employees at firms with between 5,000 and 19,999 employees, and an average of 18% of those working for organizations with 20,000 or more employees.
Firms with regular telecommuters have even more frequent travelers.
Factors Impacting Internet Telecommuting Productivity
While telecommuting is a great productivity booster, we have identified the top ten factors.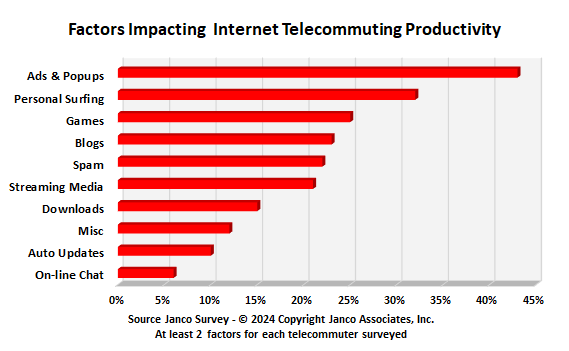 WFH & Telecommuting Policy Template
This policy is 19 pages in length. It contains everything that an enterprise needs to implement a functioning and compliant telecommuting process. Included are forms defining the working environment in addition to a check list to validate that the off-site location complies with you safety requirements.
Just added in the latest release of this template a list of the additional mandated requirements that companies face when they implement a WFH & telecommuting process.
Order WFH & Telecommuting Policy Download Selected Pages
---
Read On Infrastructure Policies