Research and Development - R&D - by State
R&D are the source of future jobs - The places to find the best employment opportunities
Research and Development - R&D - by State -The data in this report is actually based on information a few years old due to the collection and analysis process of the federal government. However even though it is a few years old it is a good benchmark of where R&D spending are occurring. As the economy improves, more research and development will occur in more locations. That is a good thing.
Typically it this is concentrated around a "strong" university and business environment.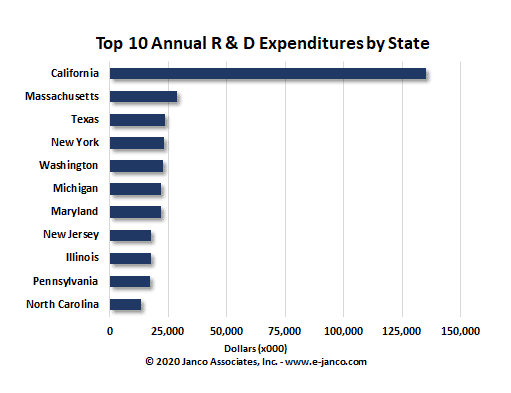 R&D is geographically concentrated more so than either population or gross domestic product. Texas, Massachuetts, and California are were most of the technology firms are and they comprise almost 40% of all R&D spending.
Order IT Infrastructure Strategy Kit Download Selected Pages
From an employment point of view, the best opportunities for IT professionals will be in those areas where R&D is.
Read On Order Classification Pay Grade System Download Selected Pages
---
Benefits of a Good IT Governance Model
IT Infrastructure management commonly supports operational functions such as system management, change control, release management, network management, applications management, job management, and database management. Across these functions, IT Infrastructure management provides a number of benefits that can result in cost savings, improved service levels, and operational efficiencies. Benefits include:
Saving IT staff time by standardizing routine tasks
Leveraging of staff resources, leading to increased IT productivity
Higher availability and improved IT Service Management
Security - Privacy - Compliance Management Issues
When dealing with cloud data and/or data that is accessed via the Internet, the enterprise must be aware of all mandated requirements for the location of the users who's data this is, the location where the cloud processing occurs, and the the location of the facilities and individuals who access that data. Each location may have different compliance requirement.
This offering is significantly impacted by mandated security and privacy requirements like GDPR (General Data Protection Regulation) and the CCPA (California Privacy Act). As privacy requirements are added, we will update this offering and all supporting policies / templates to be in full compliance.