Who are the highest paid CIOs?
The highly paid CIO ranks are diverse and very stable
The CIOs who are paid the most are a group of individuals who are not pure technocrats. Rather they are individuals who understand how technology can be applied to the operational environment of the enterprise (see CIO Roles and Responsibilities).
Janco found 35 CIO whom we considered as "highly paid". The chart below contains data that we have captured from public records. We do have information for a similar group of individuals who have the same role in privately held enterprises. The compensation there is similar, however, since there often is "limited" stock in those enterprises the performance bonuses are tied more closely to a profit participation model.
---

Top Paid CIOs & CTOs - Latest Data
---
Original Report CIO Salary Data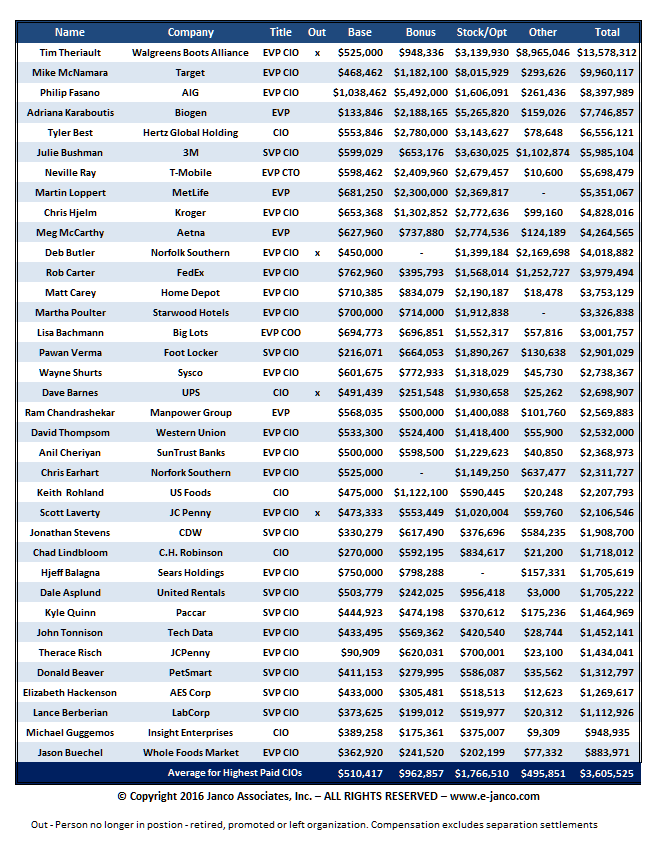 Some facts that we have established for this group of individuals are:
One quarter of this group of CIOs are women. That is up from less than 10% in 1999.
Just under one in five are minorities.  This group of CIO is not as racially diverse as the general population but this often is based on education. Over 70% have an advanced degree such as an MBA.
The median base salary $700K while the average base salary is $510K.
The median total compensation $3.3 million and average total compensation is $3.6 million.
All of the CIOs make most of their total compensation from performance bonuses and company stock.
The average tenure is well over 60 months and these individuals have a grater probability of retiring from these jobs versus being terminated or leaving for greener pastures.
All of the positions are Vice Presidents and most are Executive Vice Presidents. All have either CIO or CTO in their official titles.
Over 60% have been in IT most of their careers. and have advanced to this position.
Over 40% have operational responsibility for areas beyond IT and technology. Technology is integral to the day-to-day operations
All are integrated into the executive and operational management of the enterprises they are in. Typically IT is not in a "silo" isolated from the rest of the company.
According to M. V. Janulaitis, CEO of Janco Associates, at least two thirds of client companies doing CIO searches are requiring the recruiter to include women and minorities in the candidate pool. Further, he says, when "all else is equal" between a male candidate and a female or minority one, companies are tending to choose the latter specifically to enhance the diversity of perspectives on the management team.
Order CIO HR Staffing Management Kit Download Selected Pages
Janulaitis says, "… where companies state their "must-have" requirements for a CIO, such as experience in the industry, technology, staff development skills, capital management, with a company of similar size and scope, many women candidates outshine their male counterparts"
Indeed, it's clear that too few women are being hired as CIOs to nudge the needle on gender diversity all that much. Six years ago, in mid-2010, the number of women CIOs among the Fortune 500 companies was 10.8%. By the spring of 2016, the proportion had grown to 19.2% - growth to be sure, but hardly trans-formative growth.
"Companies want to minimize risk," says the CEO. "And when you get into the subconscious or unspoken aspects of their decision making, they may measure risk [avoidance] as [selecting] individuals they are able to align with and understand, that understand their industry — and maybe even that look like them."
"I truly believe that at both the C-suite and board levels, there's a belief that diversity of perspective and experience is beneficial," Janulaitis says. "They want to find something that's going to augment and improve what they already have."
But achieving that end can be challenging. Unfortunately, there are too few women in senior, experienced roles to populate the candidate pools of all diversity-minded companies. So it's not enough to decide at the CFO level to hire a woman. The relevant decisions must be made and opportunities offered earlier, at the developmental stage of potential finance leaders.
For one thing, companies need to provide more mentors who can share wisdom about things like where to invest time and ways to be motivated, according to Proctor.
For those with leadership potential who prioritize family and stability over always making the best career move, the path to the C-suite may be inherently more difficult in CEO and finance than in other functions, like IT and human resources.
Read On Order Classification Pay Grade System Download Selected Pages