Top 10 Prized Benefits for IT Pros
High Demand for IT Pro moves many companies to improve prized benefits for IT Staff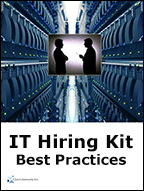 In a survey of 275 organizations Janco has identified the top 10 prized benefits for IT Pros. Many have done so in order to recruit and retain high performing IT Professionals.
Hottest prised benefits for IT Professionals:
Benefit coverage for domestic partners.  This can be for simple insurance and in some cases even cover the children of domestic partners.
Paid maternity leave. This is both the mother and the father. This can range from 12 week to in some cases 3 months. This also is extended to domestic partners in some cases.
Partial payment of school load held by employees. This can be as simple as part of a hiring bonus or up to $10,000 per year on the anniversary date of hire.
Tuition reimbursement to recognized universities. This does not have to be for IT skill enhancement or for advanced degrees. It can be for anything that the employee chooses.
Tuition reimbursement for programs that lead to technical IT certifications. Typically the programs need to be pre-approved by the company. However the objective is to enhance the technical skills of the employee.
Formal company training programs – both internal and external 7 to 14 days per year. These can be for things like team building and out of office activitiies the allow employeed to be engrained in culture of the company.
Employee wellness programs for the employee. Many companies choose to offer preventative services like biometric screenings and health fairs. Others focus on health education.
401K with company providing matching contributions.
Telecommuting at least one day a week. This includes having the infrastructure for IT Pos to do design, development, implementation, and operation of systems.
Flexible hours for all employees. This adds a budern of management and supervision on the enterprise so that employees do not become islands on to themselves.
Read on IT Hiring Kit Order IT Hiring Kit
Tools needed by CIOs
---
2023 Edition of IT Management Tool Kit Released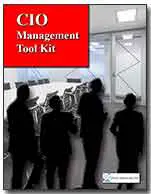 CIOs and CTOs are in a constantly evolving field, however world class CIOs and CTOs focus on three areas to help them manage more effectively. They are:
Technology
People
Infrastructure
Over 2,500 pages of "Best Practices", tips and techniques, policies, procedures, job descriptions, electronic forms and much more. Ready for immediate download.
Read on Order CIO Management Tool Kit
---
Janco has updated its CIO Management Tool Kit to address all of these management and priority needs.
The CIO Management Tool Kit (IT Managementt) components are over 2,500 pages in length is provided in MS WORD and PDF formats and includes the following:
Security Manual Template
How to Guide for Cloud Processing and Outsourcing
IT Job Family Classification HandiGuide
All of the Job Descriptions as individual MS Word files
Interview and Hiring Guide
Latest IT Salary Survey
IT Infrastructure Policy Bundle plus Electronic Forms
Business and IT Impact Questionnaire
Vulnerability and Threat Assessment Tool
Read on Order CIO Management Tool Kit