CIO Management Toolkit Update Reflects Shift of Priorities Due to Shutdown
Covid-19 significantly alters the priorities for CIOs as CFOs begin to adjust to impacts on the way companies now operate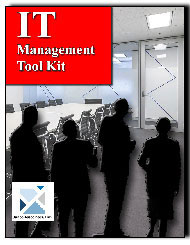 Everything was humming along on a pace that was controlled and operating effectively. Then the pandemic (COVID-19) hit and how companies operate was shifted dramatically. Work From Home (WFH) became the way many business now function.
Everything from customer relations, inventory replenishment, order process, and staff meetings now are being accomplished on-line. Companies like Zoom (for teleconferencing) began to be he new normal. In the case of Zoom they had to meet the demand for their services plus update the overall infrastructure of their application to meet the security and privacy demands of their customer base. In one week, users were challenged with change after change the company had to implement to meet the security and privacy requirement of the WFH workforce.
As a result of this shift we conducted a limited survey of 97 CIOs and CFOs to see how their priorities had shifted. The survey was conducted over the telephone and via video conferencing. Each of the individuals survey had limited time to give us. However 92 of the individuals were able to spend the time necessary to complete the survey. As a result of the survey we updated our CIO Management Toolkit to reflect the new realities of the CIO's priorities.
CIO Management Toolkit Read on
Priories shifted dramatically with the shutdown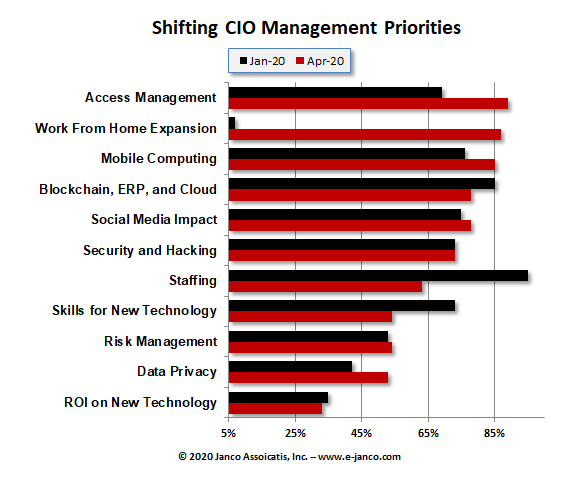 The greatest shifts in priorities were with the primary focus being shifted from staffing in January to Work From Home (WFH), Access Management, and Mobile Computing. Now CIOs are not as concerned as they were on getting addition staff to providing support for WFH and mobile computing with additional emphasis on access management.
A number of the CIOs and CFOs noted that with this almost immediate shift of office staff to remote computing there were bound to be breaches in security, hacker attacks and overall data leakage. In addition the issue of recored management, retention, destruction would cause some potential legal and compliance issues after the shut down is over.
Almost all of the other priories remained at the same level as before.
Access Management - Network management and control now have an even greater role than before. In January, 69% of the individual interviewed placed that in the top ten. Now it is priority for 89%.
Work From Home - Was not even on the radar in January at 7% (not a high priority) and now 87% place it in the top 10.
Mobile Computing - Mobile and end user computing require applications to be outward facing, functional on a myriad of devices, and user friendly for WFH staffers. Now is a priority for 85% of the interviewees versus 76% in January.
Blockchain, ERP, and Cloud - Moved down the priority list from 85% to 75% .
Social Media Impact - remained about the same with 75% to 78%
Security and Hacking - Internal and external threats are on the increase, especially as enterprises continue to increase the growth of mobile and wireless based applications. In both periods surveyed this was a top ten priority by 73% of the individuals interviewed.
Staffing - That was the top priority in January at 95% saying it was a priority to 63% saying that it was something that needs to be focused on. A number of the CFOs in the survey noted that they may need to let some non-critical IT professionals go if the re-opening of the US market is slow.
Skills for New Technologies - Along with staffing this now is a lower priority. The focus has shifted from new technologies except in the areas associated with the remote workforce.
Risk Management - Remains in about the same position in priority as before.
Data Privacy - With the rise of WFH, GDPR and CCPA data privacy is a top ten priority for 53% of the interviewees versus 42% in January.
ROI on New Technology - Still important but has dropped out of the top 10 priority list with the emphasis on staying in business.
Janco will continue on this analysis as it prepares for its Mid Year IT Salary survey to be released in July.