Computer Science Degrees drive future IT Job Market Growth
Demand for IT Pro high - Median Salaries for IT Pros now $95,628
IT Professionals with Bachelors's, Master's, and PhDs are and will continue to be in high demand.  A recent analysis of long-term IT Job Market growth by both Janco Associates and the BLS shows that education matters in computer science. 
---

NOTE: the table below is updated automatically with the latest IT salaries when a new salary survey is published. That happens every January and June. The historical data is available.
---
Latest Median IT Salaries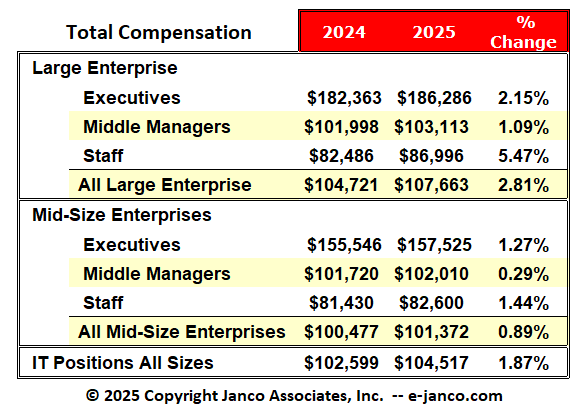 For the latest data go to the current IT Salary Survey
---
Read on Salary Survey Order Salary Survey Download Summary
BLS and Janco both forcast close to 400K new IT jobs will be creacted by 2029 for computer support Specialsits, Software Developers, Software QA specialists, project managers, IT middle managers, senior/executive management.
Median salareies for those positions range from $52K to $162K according to BLS and Janco data.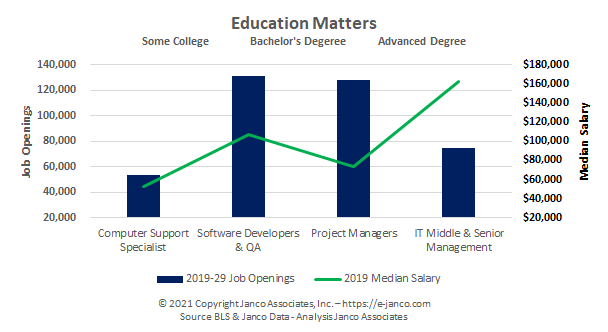 When job market forecasts are made it is very clear that the senior level developers, middle managers, and senior managers need to have at least a Bachelor's degree.  As IT pros move up in the ranks in the IT infrastructure advanced degrees are highly desirable and required for the top level positions.
Technical training and certifications are becoming more critical for technology-based IT Pros.  That is especially for individuals in the "Big Data" arena.