Defined Career Paths Improve Employee Retention
Pay for IT Pros needs to be competitive in a tight labor market
Retention starts right from the initial steps in the recruitment and hiring process. That includes everything from the application process to screening applicants to choosing who to interview. A first step is identifying what aspects of culture and strategy you want to emphasize, and then seeking those out in your candidates. Career paths, personal development opportunists and compensation are keys to that process. 
Historic IT Job Market Size - 4.2 Million Employed as IT Pros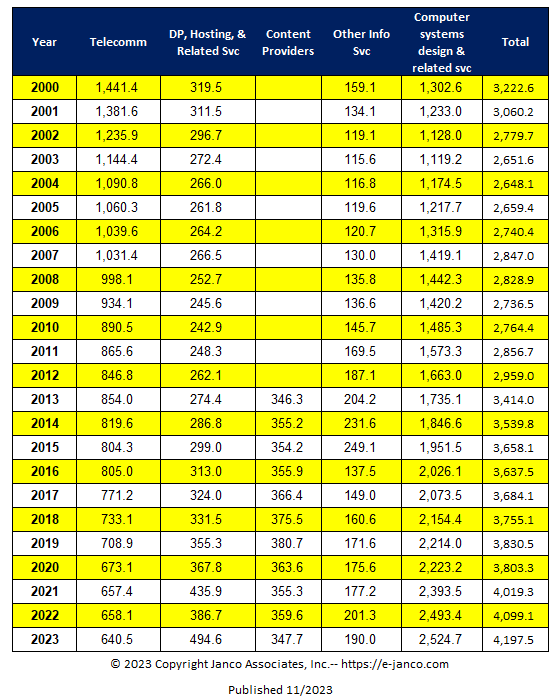 This is not the original data that was published.
It has been updated with data complied by Janco Associates with data as of November 2023.
The quality of the recruiting and hiring process can be measured by the length of time the new employee stays with a company and the progression of that employee through an organization's career paths. The longer someone is with the company, the more productive they typically become. Companies must look at this as a long game plan and take steps to ensure then company is doing it right by making sure each employee is completely engaged with and part of the company's ongoing success.
Both in an individual's personal career planning and an enterprise's staffing, promotion and compensation, it is important to have benchmarks on the levels that individuals are at. To that end, one of the best objective ways to meet this goal is to have formal job descriptions and clear paths for promotion and compensation.  Janco's IT Job Family Classification & Pay Grade System can be a key component of the recruiting and staff management process.   
---

NOTE: The graphic below is updated with each new IT Salary Survey. The chart compares the data from the period of the survey to prior period.
---
Latest Median IT Salaries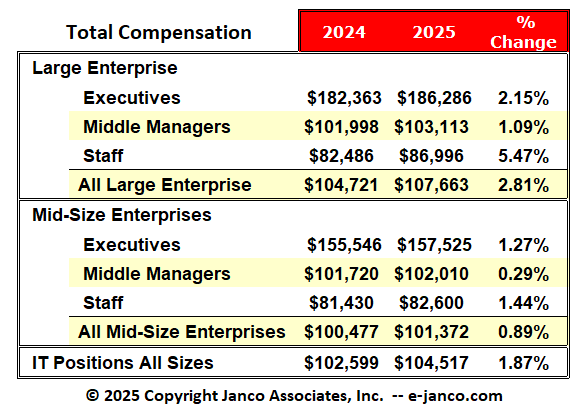 For the latest data go to the current IT Salary Survey
---
Read On Order Classification Pay Grade System Download Selected Pages