Setting Pay Grades - First Steps Defined
Pay grades need to be fair and reflect market positions
Many organizations do not have a robust methodology for setting pay grades for high in demand positions. The IT Job Family Classification & Pay Grade System is shortcut created by Janco which has worked for many organizations.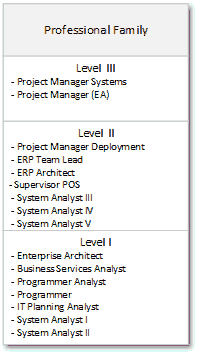 The first step is have a structure which provides a framework that is easy to implement. For example, one job family defined in the IT Job Family Classification and Pay Grade System, the IT System Technology Professional Family. With that in place the creation of pay grades to include the System Analyst Class is straight forward.
The Professional Family has three (3) levels: Technologist (Level I), Supervisor (Level II), and Manager (Level III). Using that framework, we defined the System Analyst Class to include 5 specific job titles - System Analyst I (entry level ) though System Analyst V (Supervisor to Entry Level Manager). With some analysis Janco defined and created five detail job descriptions for those positions and applied them to the Professional Family. (Note:the System Analyst Class job descriptions are available in a bundle that can be ordered below)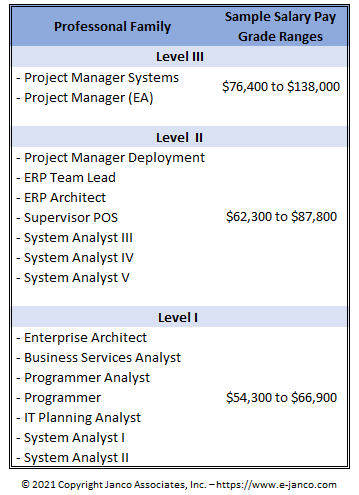 At this point existing compensation ranges and market salary data is compiled and added to the three levels to establish formal pay grades. Presto, there now is a career progression path, a compensation structure that is competitive, and a tool that simplifies the recruiting process.
The effort to set pay grades is not as daunting as it would seem. For example, this process was completed in less than 4 weeks with these tools for 121 person IT function. This is one tool kit that every HR group should look at implementing.
As the post pandemic recovery takes hold it will be more critical than ever to be on top of tools like these.
Read On Order Classification Pay Grade System Download Selected Pages
---

NOTE: The graphic below is updated with each new IT Salary Survey. The chart compares the data from the period of the survey to prior period.
---
Latest Median IT Salaries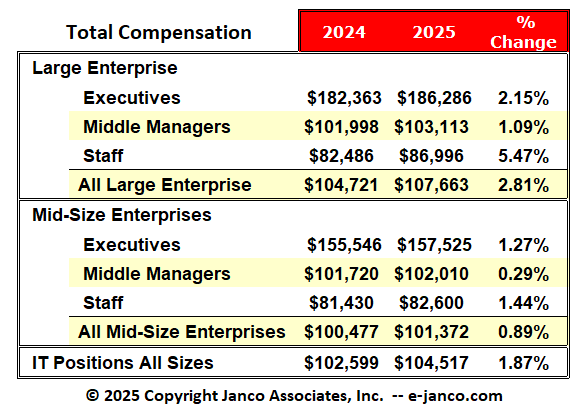 For the latest data go to the current IT Salary Survey
---