IT Pros have many options in a robust IT Job Market

Over 100,000 IT jobs remain unfilled as demand for IT Pros exceeds supply
The last 12 months has been a boon for IT Professionals as there are more positions available than IT pros who can fill them.  For the past 12 months there have been over 186K jobs added to the growing IT job market.  At the same time there have been an average of 106K hires of IT professionals. At the same time the number of unfilled positions continues to grow.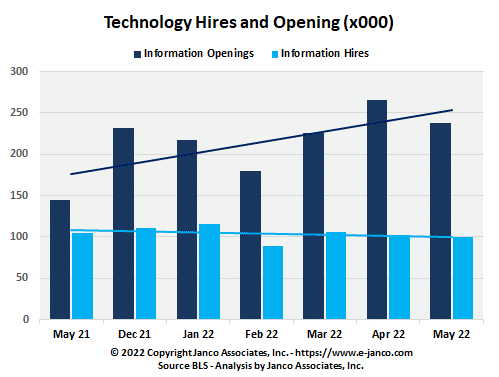 Even if there is a downturn in the current economic recovery, it will take at least a quarter to the surplus of IT positions to be filled. This is reflected in our IT Job Market size forecast. If there is not significant downturn in the economy, that disparity will be reflected in increased compensation for IT Professionals.
One of the ways that CIOs can minimize the gap is to see that new hires are successful. Success with new hires is when you have them being productive and still employed with the enterprise for over 24 months. 24 months being the time the employee is a full team player and contributing to the success of the enterprise's IT function.
Why New Hires Fail
Janco has analyzed the exit interviews of 285 IT functions covering 1,200 employees.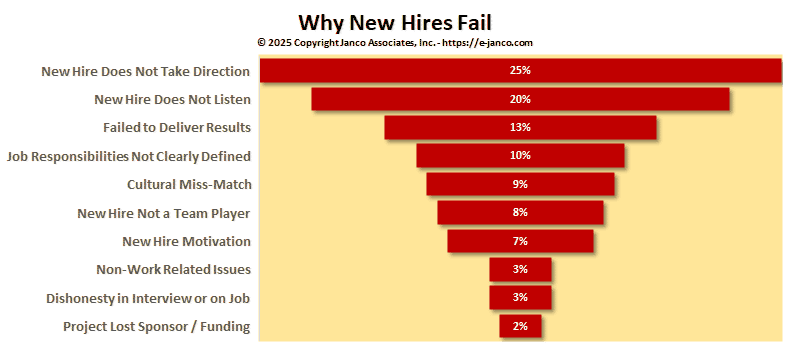 New Hire Does Not Take Direction - 25% - The primary driver of the new hire failures is that they do not do what is asked of them. It could be that the directions provided to them were not communicated correctly or completely.
New Hire Does Not Listen - 20% - New employees can be in a rush to prove their worth and many do not clearly understand what is expected of them in not only quality but also content. They may be more than capable but since they did not listen and/or understand what was said they are doomed to fail.
Failed to Deliver Results - 13% - Productivity, which equals time and budget objectives being met, failed. If the new hire does not deliver what is expected they will not succeed.
Job Responsibilities Not Clearly Defined - 10% - Job descriptions define what the responsibilities are. If there is no good job description, then expectations are subjective and subject to misinterpretation.
Cultural Miss-Match - 9% - This is a pure miss on the hiring manager's part. Some of this is style but a good recruiting and hiring manager should know the "type" of person who is a fit for the organization and/or department.
Employee Not a Team Player - 8% - Employee references and peer comments from prior companies can help to identify this characteristic.
Employee Motivation - 7% - The interview should be able to identify what the employee's motivation is with a strong and thorough interview process.
Employee Non-Work Related Issues - 3% - There is not much that can be done to address this. These are typically personal issues beyond the control of the employer.
Dishonesty in Interview or on Job - 3% - Much of this can be minimized by verifying what is on the resume or what a candidate says during the recruiting process.  If dishonesty  is caught before the person is hired then costs and disappointments due to this factor can be minimized.
Project Lost Sponsor / Funding - 2% - This is typically out of the control of the new hire's manager or the recruiting manager.
Read on Order Interview Hiring Guide Download Interview Guide Selected Pages