Job Description Structure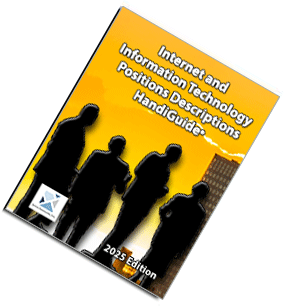 The importance of a good job description can not be stressed enough. Without a consistent structure for all of the job descriptions within an organization, the enterprise is at risk. Staff could be misaligned and critical skills and responsibilities can be misaligned.
Janco's principles have defined a structure for job descriptions meets all of mandated requirements and is easily adaptable to new technologies and roles as they appear. All of Janco's job descriptions contain at least information regarding a given job and its functionality within an enterprise.
Order IT Job Description HandiGuide Sample Description Download TOC
Job Description Summary
The summary description is sufficient enough to be included in job postings and position requisitions
Position Purpose
The Position Purpose section provides an overview of the responsibilities of the position and is a summary of the most important aspects and duties of the position.
Problems and Challenges
The Problems and Challenges section outlines specific challenges facing the holder of the position. If these challenges are met efficiently and effectively, opportunity for advancement to a higher position, offering greater challenges, will occur.
Essential Position Functions
If an employer uses written position descriptions, the ADA does not require that they be limited to a description of essential functions or that "essential functions" be identified. However, if an employer wishes to use a position description as evidence of essential functions, it should in some way identify those functions that the employer believes to be important in accomplishing the purpose of the job.

With this in mind all of Janco's job descriptions have been developed with four items to identify essential position functions. They are:

Principal Accountabilities,
Authority,
Contacts, and
Position Requirements
Principal Accountabilities
The Principal Accountabilities section itemizes the separate duties and responsibilities of the position. This section fully details each major task or responsibility necessary to correctly perform the job function. The tasks are ranked from those most crucial in the beginning to those which are more routine are listed at the end.
Authority
The Authority section of the position description delineates the amount of latitude the position holder has in influencing personnel and decision making within the department. This section also outlines which departmental personnel the position holder needs to interface in order to successfully perform this job.
Contacts
The Contacts section of the position description identifies the primary and secondary contacts with whom this position deals with on a day to day basis.
Position Requirements
The Position Requirements section sets forth hiring requirements for the specified position, as well as necessary educational, experiential, and other requirements necessary for the position.
Career Ladder
The Career Ladder section proposes future career track opportunities for the position holder. This provides a goal for the position holder to achieve and should therefore increase motivation levels.