Mixed Job Market News
A net gain of 20,400 jobs in July - versus the 3,400 in June and 200 in May - Labor Participation rate falls 195,000 Fewer Americans Had Jobs in July; 150,000 Dropped Out of Labor Force
Fewer than one in five organizations is looking to hire additional IT staff within the next month - At this rate of improvement IT could regain all of the jobs lost during the 2007-09 recession in the next 12 months…
There was a net increase of 20,400 seasonally adjusted IT jobs in Julyaccording to the latest BLS data. There was an improvement in computer system design and related services accounted of 10,400 jobs; 7,000 in telecommunications, 1,900 jobs in Data Processing, hosting and related services; and another 1,100 jobs in other information services. The CEO of Janco Associates, Inc. (e-janco.com), Victor Janulaitis said, "This looks like a marked improvement in the job prospects for IT professionals. There still is an issue with the fall in the percentage of individuals looking for work; however we see more CIOs looking to reduce their expenses by replacing consultants and contractors with full time employees. " He added, "This a not a gain in the total number of IT jobs, but it does increase opportunities for IT professionals who are not consultants or contractors. "
The IT job market growth trend for IT Professionals is down, See chart below.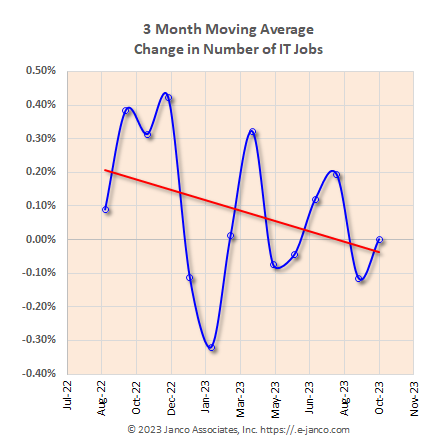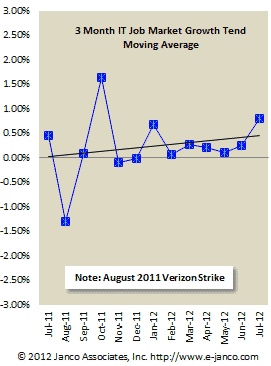 At the same time Janco's CIO Hiring Plan Forecast looks upbeat with CIOs looking to replace consultants and contractors with full time employees. There is general consensus that they will be hiring next year at this time.

In the last three (3) month the IT Job market grew by 4,300. This chart is not the originally published one, rather it is updated with the current data based on the analysis by Janco Associates, Inc. For the latest IT Employment Data click here.
---
The number of new jobs created continues to be lower than the number of jobs needed for the US economy to stay even with adult population growth. The Labor Department has reported the economy added 163,000 in July up from 80,000 in June (69,000 in May) . Unemployment is highest in Nevada and California.
IT Job Market Employment Trends
For the first time in several months there were gains in the total number of jobs in all sectors of the IT job market. There was a net increase of 20,400 seasonally adjusted IT jobs in Julyaccording to the latest BLS data. There was an improvement in computer system design and related services accounted of 10,400 jobs; 7,000 in telecommunications, 1,900 jobs in Data Processing, hosting and related services; and another 1,100 jobs in other information services.
Health Care vs. Financial Services Job Growth

Employment is on the rise in Healthcare IT and spending will reach $40 billion by the end of this year. Much of that growth will come from spending on electronic health record (EHR) systems, mobile health applications and efforts to comply with new government standards. Boosted by increased spending on healthcare software -- which is needed for the rollout of EHR systems -- the U.S. healthcare IT market is expected to grow at a rate of about 24% per year from 2012 to 2014, the study said. Spending on healthcare software rose 20.5% in the past year, from $6.8 billion in 2010 to a projected $8.2 billion this year. Recent mergers and acquisitions in the healthcare IT market also point to growing private-sector interest in software, which will see sales grow at rate of more than 30% annually from 2012 to 2014.
Read on Salary Survey Order Salary Survey Download Summary