Mid-Year 2013 Salary Survey Released in Time for 2014 Budgeting Process
As we move into late summer the budgeting process for 2014 starts to take hold. CIOs and IT Managers by now should have a handle on the initiatives they will be working on and the proposed staffing levels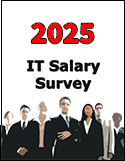 To aid in the budgeting process, Janco has just released it MID-YEAR 2013 IT Salary Survey and finding show there has been little movement in compensation for IT professionals in the last 12 months.
Defining Your Optimal IT Infrastructure is a critical task that can no longer wait with all of the changes mandated by PCI-DSS, HIPAA, ISO, ITIL, Sarbanes-Oxley, changing economic environment, and changes to enterprise operating environments.
Summary Data by IT Job Level
---

NOTE: the table below is updated automatically with the latest IT salaries when a new salary survey is published. That happens every January and June. The historical data is available.
---
Latest Median IT Salaries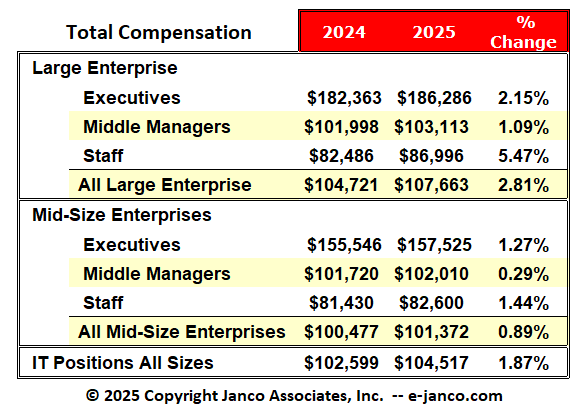 For the latest data go to the current IT Salary Survey
---
Summary Findings are:

IT compensation has increased by 0.45% in the last 12 months.
CIOs compensation has increased in the past 12 months - the mean base compensation is higher and bonuses are about the same as received in the prior year.  The mean compensation for CIOs in large enterprises is now $182,210 (an increase of 1.37%) and $165,702 (an increase of 0.14%) in mid-sized enterprises.
Positions in highest demand are all associated with the help desk, big data, quality control, records management, and system analysts.
Over the long term IT executives have fared better in mid-sized companies than large companies.
In the last 12 months the IT job market has grown by 87,600 jobs according to the Bureau of Labor Statistics (BLS) - not enough to employee the number of IT graduates from US universities or to increase demand.
Lay-offs seem to have tapered off, however some companies continue to cut the size of the IT organizations.
Cost control is still the rule of the day; however we have seen an increase in the number of "part-timers" and contractors who are focused on particular critical projects.
On shore outsourcing has peaked and companies are looking to bring IT operations back into their direct control and reduce operating costs.
BYOD and "big data" requirements have increased the demand for system analysts and web designers for both Android and Apple devices as well as the new Windows based phone.
 Companies are continuing to refine the benefits provided to IT professionals. Though benefits such as health care are available to 82%, IT professionals are now paying a greater portion of that cost.
Order Salary Survey Download Sample Provide Data
NOTE: If you participate in our Januay 2014 Salary Survey by providing us with at least 10 validated data points you will qualify to get a free copy of that survey. Just select the Provide Salary Data button.