The Service Level Agreement Policy and Sample Metrics has just been updated
There are 12 full job descriptions in the SLA Policy Silver Edition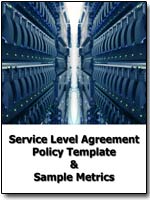 The Service Level Agreement Policy and Sample Metrics has just been updated - Identifying key service level and performance metrics are key ingredients in understanding how the path towards an objective can be impacted. Consequently, by establishing a platform that systematically monitors these service level and performance metrics, CIOs and operational executives can consistently get a pulse on the health of the business. Ultimately, by tracking and measuring the performance of their various business segments, CIOs and executives are able to validate their decision-effectiveness against the intended business objectives. Negative results could indicate the need to vary existing strategies or formulate alternative strategies, while inconsistent results could point towards a lack of correlation between the objectives and their associated metrics. In either case, timely executive intervention is important in ensuring realignment of objectives, service levels, metrics, and strategies. CIO and IT Managers must be vigilant in identifying shifts in business performance. By leveraging real-time data and information, executives can become more proactive, rather than reactive, in performance management.

Janco Associates, Inc. has just released it latest update to its Service Level Agreement and Sample Metrics Template. The silver edition has the added bonus of 12 full job descriptions that are key to the SLA and metrics processes. They are:
VP Administration
VP Strategy and Architecture
Director IT Management and Control
Manager Contracts and Pricing
Manager Controller
Manager Metrics
Manager Outsourcing
Manager Service Level Reporting
Metrics Measurement Analyst
Quality Measurement Analyst
System Administrator Unix
System Administrator Windows
The Janco Service Level Agreement Template and Metrics tool is designed to make creation of service level agreements far more straight forward. It is intended to ed-mystify the Service Level Agreement process, and enable CIOs and It Managers in concert with its clients produce a top quality document with the minimum of level of frustration. There is absolutely no need to re-invent the wheel! It is supplied in MS-Word format along with sample metrics which can be applied to most functions.

Service Level Agreement Policy Template comes in Word for a single application and defines specific SLAs and metrics that are both internally and externally focused. The sample contain over 70 possible metrics presented graphically in PDF format.
Read on SLA and KPI Metrics Order SLA Policy and metrics Download Sample SLA

---