Top 10 CIO Concerns Defined
CIO concerns to be addressed this year
Top 10 CIO Concerns Defined - Janco Associates has just completed its annual review of CIO and CTO concerns and complied its CIOs Top 10 Concern List.
Security is the top issue with 68% of the top IT professional saying it is the one they lose the most sleep over.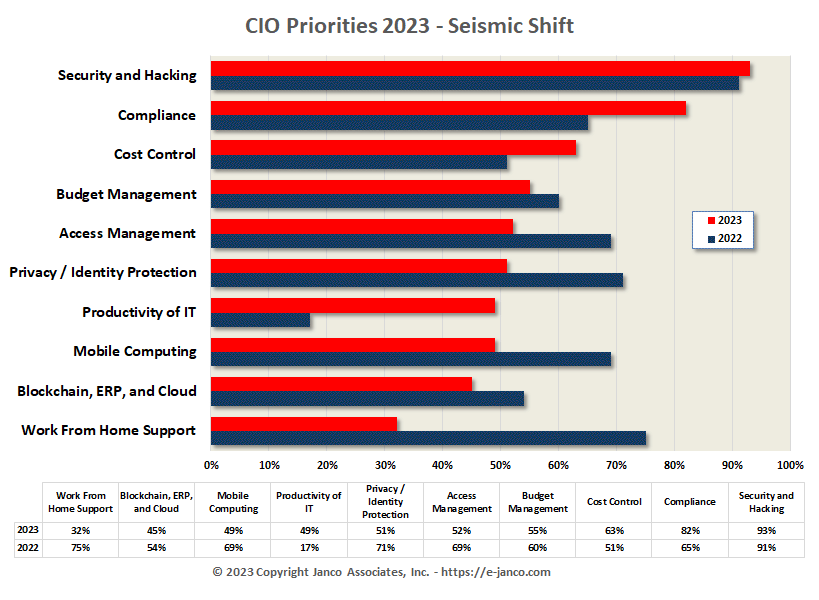 Updated with the latest CIO priorities
The CIO Concern Management Toolkit addresses all of these issues and contains:
Security Manual Template
How to Guide for Cloud Processing and Outsourcing
IT Job Family Classification HandiGuide
320 Job Descriptions
Hiring Guide
IT Salary Survey
CIO IT Infrastructure Policy Bundle with electronic forms
Business and IT Impact Questionnaire
Vulnerability and Threat Assessment Tool.
CIO Concern Management Toolkit -- Save Over $1,500
The toolkit contains everything that an IT Department needs in order to better manage the concerns that the CIO has.
The kit is available with and without update subscription service. When you order it with subscription service you save an additional $1,000 plus you will receive at least 1 update and up to 6 updates for each of the components in the kit.
Order CIO Concern Management Kit Order Components Order Update Service