Top 10 CIO Management and Planning Priorities
Most IT organizations are in full employment states - Staffing is the highest priority for most CIOs
In Janco's most recent survey the top 10 Management and Planning priorities for CIOs were identified.
---
Top 10 CIO Management and Planning Priorities
Change from what was originally published - Updated to the latest data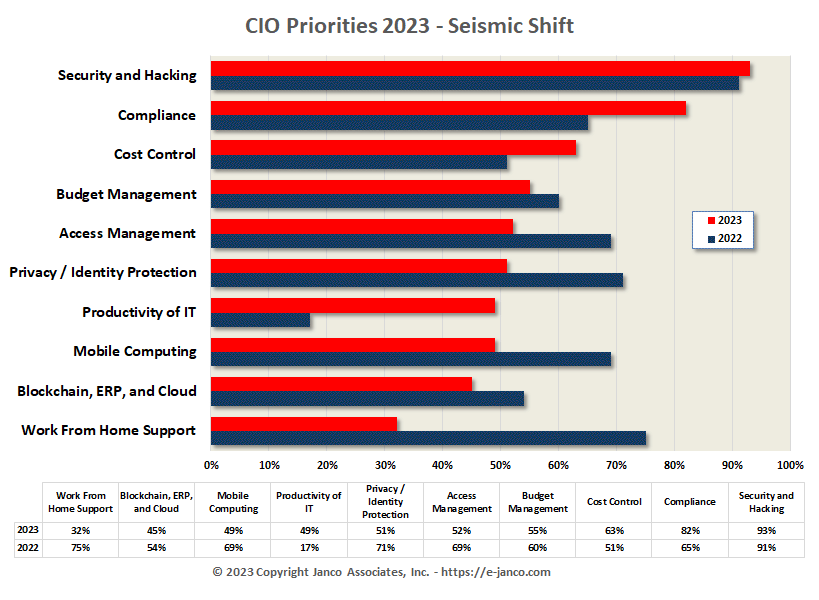 Survey conducted by Janco Associates, Inc. identified the the management and planning priorities that CIOs and CFOs have. CIOs and CFOs were asked to list and rank their top 5 management and planning priorities. 142 companies participated in the survey and included both large and mid-sized companies that had at least 150 professionals under their direct control. Most recent discusion of this can be found on the site. Use the search option to find topics.

Read On...
---
Staffing - With full employment in most of the US, recruiting, managing and training staff are the most pressing concerns for CIOs as they are pressured to keep head counts down while improving service levels.
Blockchain, ERP, and Cloud - As more enterprises move towards Blockchain and DLT technologies, ERP and Cloud make a greater impact on the focus of CIOs on those technologies.
Mobile Computing - Mobile and end user computing now require applications to be outward facing and functional on a myriad of devices.  CIOs must prioritize the needs of their users and customers. Excellent customer service and cost effectiveness in driving the business forward are the two overlying themes for many businesses.
Social Media Impact - Social media plays an ever larger role in the interaction of enterprises with its customers and organization's reputation.
Skills for new Technologies - The fast moving pace of technological innovation means change is a guaranteed part of management and privatization. As business processes change, changes in organizational cultures and how they affect people are very high on the CIO's agenda.
Security and Hacking - Internal and external threats are on the increase, especially as enterprises continue to increase the growth of mobile and wireless based applications.
Access Management - Network management and control now are the focus of the help desk functions.
Risk Management - Security and compliance work together for CIOs as many governance and compliance regulations were spawned from risk management and directly affect security.
ROI on New Technology - Budgets have never been tighter. Organizations are striving to improve ROI and keep tight control over expenditures, even though they still need innovative technology to keep ahead of the competition.
Data Privacy - With the rise of GDPR and CCPA data privacy in now the focus of significant effort.
Read on Order CIO Management Tool Kit