eJobDescription.com successful eCommerce site
On-Line job descriptions
eJobDescription.com successful eCommerce site - Some human-resources managers are buying job descriptions off the Web, rather than write them from scratch. Janco Associate, Inc. has generated significant revenue from the website eJobDescription.com.
This is one of many references to Janco Associates and it principals in both industry and international new media. Typically we will not republish the articles. Rather we will tweet them and post them to our Tweeter page, Facebook company page, and Google plus page. You can see links to those page on the upper right hand side of this web page.
The job descriptions all follow the same format and include a specific position purpose description, problems and challenges, essential position functions, principal accountabilities, authority, contacts (both internal and external), position requirement, and career ladder.
Order IT Job Description HandiGuide Sample Description Download TOC
---
IT Job Families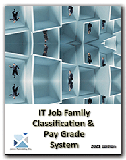 Both in an individual's personal career planning and an enterprise's staffing, promotion and compensation it is important to have benchmarks on the levels that individuals are at.  To that end, one of the best objective ways to meet this goal is to have formal job descriptions and clear paths for promotion and compensation.
A job family classification system is one that defines how individuals can grow into higher level positions over time by providing benchmarks milestones that need to be achieved as they advance over time.  This in time, impacts the compensation that is paid in a fair and objective manner.   A job family is a series of progressively higher, related jobs distinguished by levels of knowledge, skills, and abilities (competencies) and other factors, and providing promotional opportunities over time. With this in place, along with full detail job descriptions, it is easy for both the staff member and the management team to understand what is expected and were the long term options for the staff member are.
The primary driver for the classification system are the position descriptions that are assigned to a particular family and the job level is based on the job family classification and level descriptions. All positions at the same level have the same salary grade throughout an enterprise.
IT Job family classification system has been proven to be a significant time saver and productivity improvement tool for both the Human Resource Department and IT management function.