Sarbanes Oxley Compliance Resource Kit contains Threat And Vulnerability Tool
Order Compliance Management Kit Download Selected Pages Compliance Kit
Park City, UT - Janco Associates (www.e-janco.com) today released its Sarbanes Oxley Compliance Resource Kit (ver 2). Included in this release is a new version of the Threat & Vulnerability Assessment Tool with a defined scoring mechanism to rate risks faced. Victor Janulaitis, CEO of Janco said, "Many of our clients are trying to get a step ahead of their external auditors by using our kit to verify they are complying with Sarbanes Oxley. Plus they are using the components of the kit to validate the adequacy of their security policies and disaster recovery processes". Janulaitis also said, "We have spent the last several months updating our products to validate that they address the issues posed by Section 404 of Sarbanes Oxley. "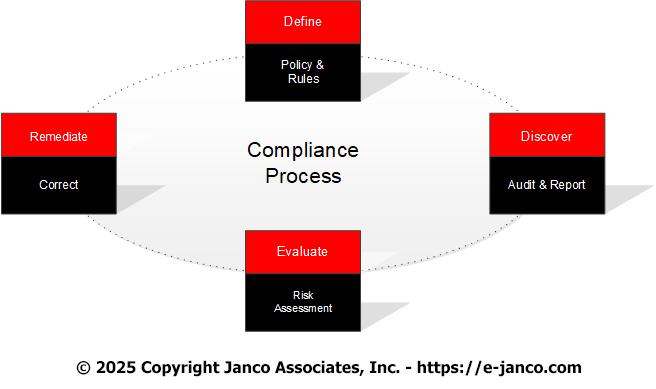 Janco uses its proprietary distribution system to deliver the kit electronically. Janulaitis said, "Over the last few years, the demand for instantaneous availability has mandated that we provide our customers with immediate access to our products. We have not shipped a 'paper' product in over 18 months. In addition our international sales have increased dramatically. "
The SOX Compliance Resource Kit can be acquired at https://www.e-janco.com/sarbanes-oxley.htm and includes:
Threat & Vulnerability Assessment Tool
Business & IT Impact Questionnaire
Security Manual Template 
Disaster Recovery Template
Safety Manual Template
Practical Guide for IT Outsourcing
Chief Security Officer Job Description
Internet and IT Job Descriptions HandiGuide (192 Job descriptions)   
Janco Associates, Inc. (www.e-janco.com) is an international consulting organization based out of Park City, Utah. In addition to consulting services, Janco offers management resource tool kits and pre-written templates for Disaster Recovery Programs and Safety Programs, Job Descriptions, IT Salary Data, HandiGuides™ for Metrics and Internet Policies and Procedures.
Order Compliance Management Kit Download Selected Pages Compliance Kit