Recovery Does Not Help IT - Demand and Pay Flat
Park City, UT - Recovery Does Not Help IT - Demand and Pay Flat - Janco Associates (www.e-janco.com) today announced results of its IT Salary Survey and its Comparative IT Salary Survey. At the same time Janco announced the release of its new IT Resource Hiring Kit (https://www.e-janco.com/ithirepack.htm).
---

NOTE: the table below is updated automatically with the latest IT salaries when a new salary survey is published. That happens every January and June. The historical data is available.
---
Latest Median IT Salaries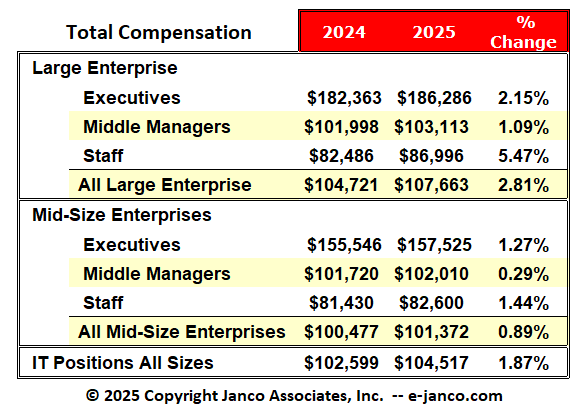 For the latest data go to the current IT Salary Survey
---
Janco's January 2005 Compensation Survey data, for the US and Canadian metropolitan areas, showed there was a small decrease in over all compensation and demand for IT professionals. On the positive side, there was an increase in compensation for CIOs due to year-end bonuses. Mr. Janulaitis (CEO of Janco) said, "The return of year end bonuses is a positive sign. It has been several years since we have seen a significant number of our participating enterprises providing as many bonuses as they have this year. " In addition, he said "The increase in bonuses for CIOs is a leading indicator of an improved situation for long term demand and pay for all IT professionals.
Survey findings
The mean total compensation for all positions surveyed has edged down slightly (-0.75%) for the last six months. In mid-sized enterprises the mean total compensation has edged down to $75,406 from $76,259 in the last quarter of 2004. At the same time in large enterprises the median compensation has also declined slightly from $80,605 in June 2004 to $80,276 (-0.41%) in January 2005.
As a result of year end bonuses, the mean total compensation  for Chief Information Officers (CIOs) in large enterprises increased by 4.16% from $162,827 to $169,601 and in mid-sized enterprises by 1.35% from $169,498 to $171,791.
The trend to outsource continues and some enterprises continue to reduce costs by eliminating IT infrastructure positions such as training and planning.
Order Salary Survey Download Sample Provide Data