Index
Back
Next
Salary scenario rosier for CIOs
Salary scenario rosier for CIOs - A new 2005 Compensation Survey reports an increase for CIOs due to year-end bonuses, though it reports a small decrease overall in compensation and demand for IT professionals. According to Victor Janulaitis, CEO of Janco, "The return of year end bonuses is a positive sign. It has been several years since we have seen a significant number of our participating enterprises providing as many bonuses as they have this year. " He added that, "the increase in bonuses for CIOs is a leading indicator of an improved situation for long term demand and pay for all IT professionals. " Janco, based in Park City, Utah, also concludes that the outsourcing of IT jobs continues to have a negative effect on the U.S. and Canadian job markets, the two regions covered in the study.
---

NOTE: the table below is updated automatically with the latest IT salaries when a new salary survey is published. That happens every January and June. The historical data is available.
---
Latest Median IT Salaries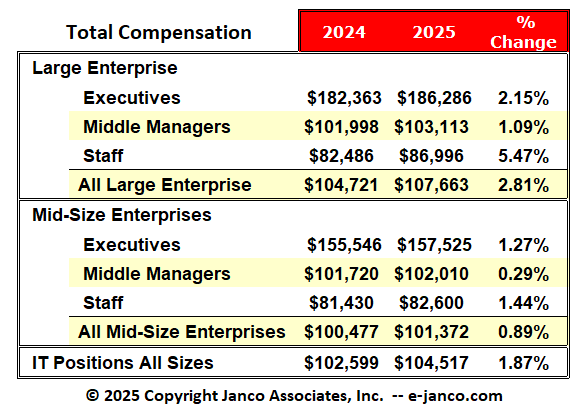 For the latest data go to the current IT Salary Survey
---
Janco found that the mean total compensation for CIOs in midsize companies grew by 1.35 percent, from $169,498 to $171,791. In large companies, CIOs had even more to celebrate, as the mean compensation for those workers increased by 4.16 percent, from $162,827 to $169,601.
Order Salary Survey Download Sample Provide Data