Inside Today's Falling IT Salary Levels
Inside Today's Falling IT Salary Levels - If you're inclined toward an optimistic view, you might look at the slight dip in IT salaries without too much worry.
Sure, IT pay in 2009 is looking anemic. Based on data from Janco Associates (see chart below) the average paycheck slipped a fraction of one percent from 2008. That's not great, but hey, it's not terrible. Given the constant dark headlines - and an unemployment rate marching toward double digits - it could be worse.
But a decline is still a decline. Factor in the ravages of inflation, and in real terms that slight fall represents a significant loss of 3-5 percent. Ouch. (Government data claims that inflation actually declined 1.3 percent over the last year, but if you believe that you also believe in the tooth fairy. )
Making the salary dip seem worse, perhaps, is the inherent instability of a career in IT. Some lucky individuals stay at one post for several years, but plenty of IT staffers re-enter job market every 2-5 years. Sagging salaries mean that an applicant who now offers more experience could actually see lower pay.
Dreary economic tidings push down IT salaries in a host of ways: company closings, a focus on cost cutting, increased outsourcing. Some firms have hiring freezes. Plenty of aging boomers who hoped to escape the grind now face deflated portfolios and so plan to hang in there - meaning fewer job openings.
Note in the chart below that a few IT positions have maintained salary levels:
---

NOTE: the table below is updated automatically with the latest IT salaries when a new salary survey is published. That happens every January and June. The historical data is available.
---
Latest Median IT Salaries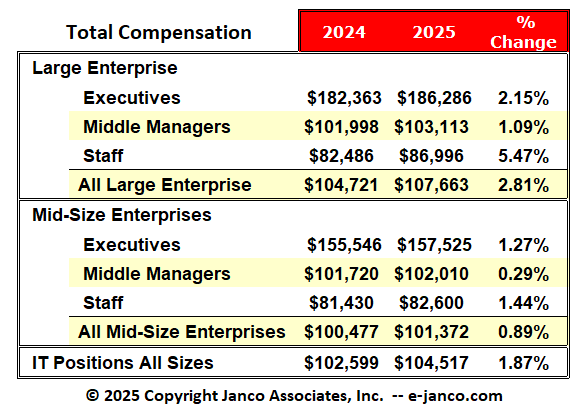 For the latest data go to the current IT Salary Survey
---
Compared with 2007, this year has seen deep erosion among managers in mid-sized tech shops: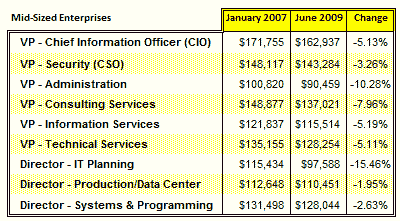 Chart: © 2009 Janco Associates, Inc.
A View from the Trenches
Tom Silver, a VP at tech job site Dice, noted that the IT job market has gotten markedly worse since the winter.
A Dice survey of 1,900 employers indicated that 58 percent foresee salary levels declining for new hires. A mere 7 percent said salaries would go up, with the rest saying no change.
"That's decidedly down from when we asked the question six months ago," Silver said. In November 2008, 32 percent expected declining salaries.
Alarmingly, 43 percent of respondents said layoffs are likely or very likely for technology professionals in the next six months.
Those IT pros who are looking for work are encountering greater competition. Fifty six percent of employers said that they are seeing increasing number of applicants compared with six months ago. Thirty two percent of employers said that back in November 2008.
It's a Contractors' World
As tech employers get nervous, they're trying to fill more jobs with part-timers.
"We're starting to see more of a shift toward contractors or consulting work, which is exactly what we would expect to see," Silver said. "It's what we saw during the last downturn a few years ago. "
"There are some critical projects, like infrastructure projects that help companies become that much more efficient, that have to get funded. Yet employers are still a little bit gun-shy about hiring people on a full time basis. "
Fringe Benefits 2009
Order Salary Survey Download Sample Provide Data