IT Hiring Steady but Salaries Down
Given today's tight economy and growing unemployment figures, some of the latest news on the IT staffing front -- which could see a tiny rise in IT hiring -- is welcome news. Other news, such as the decline in overall compensation, is less encouraging.
The quarterly "CIO Hiring Forecast" from IT staffing specialist Robert Half Technology surveys more than 1,400 North American CIOs to get a feel for their hiring expectations. The latest report shows respondents are surprisingly sanguine. Slightly less than one-tenth (8 percent) of IT chiefs expect to add IT workers during the coming quarter, while 6 percent anticipate cutting their staffing levels. That makes for a net 2 percent uptick in IT hiring -- basically, the same as Robert Half's Q2 report. The overwhelming majority of CIOs (85 percent) don't plan to make any changes to their staffing levels

Intriguingly, about one-fifth of IT chiefs plan to augment their IT staffs by hiring a mix of full-time and contract/project workers. Full-time IT workers who are most actively sought after include those at the staff level (i.e. , those without managerial aspirations) with up to five years of experience; nearly nine in 10 CIOs cited this requirement, according to Robert Half. An additional one-fifth of IT decision makers said that they're mulling plans to hire IT workers at the manager, senior manager or director levels.
Among CIOs who expect to trim their staffing levels in Q3, most (41 percent) cited IT budget cuts as the primary culprit; just over one-third (37 percent) cited company-wide layoffs, while one-seventh cited IT project freezes.
The IT skills most in demand include network administration (e.g. , LAN or WAN), which was cited by 69 percent of IT chiefs, followed by Windows admin experience, according to 68 percent of CIOs.
Similarly, IT chiefs ranked networking as the fastest-growing job sector (at 16 percent), followed by helpdesk and technical support (cited by 15 percent of CIOs) and applications development (11 percent).
IT Compensation Falling
On the other hand, those IT professionals who are employed may need to worry about their future salaries. Park City, Utah-based Janco Associates released its 159-page "2009 Mid-Year IT Salary Survey" last week in which it highlights how overall pay for IT professionals has declined in the past 18 months along with the demand for IT skills.
---

NOTE: The graphic below is updated with each new IT Salary Survey. The chart compares the data from the period of the survey to prior period.
---
Latest Median IT Salaries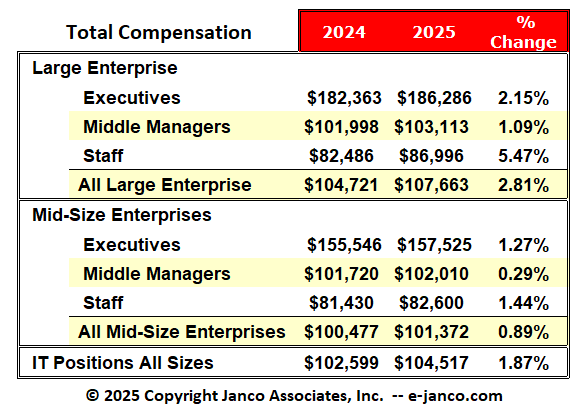 For the latest data go to the current IT Salary Survey
---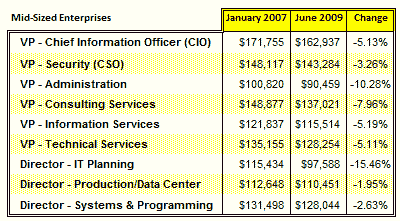 © 2009 Janco Associates, Inc.
In a statement, Victor Janulaitis, Janco's CEO, said, "The current economic climate, with its cost-cutting mindsets, business closures and extensive outsourcing, has put such great pressure on the IT job market that overall pay has been impacted. Added to that many 'baby-boomers' who had planned on retiring in the next few years are not leaving the job market and you have more potential employees than positions available. "
Layoffs have targeted middle management and IT support staff, and many mid-sized enterprises have stopped hiring completely. The report also points out that "few positions are in high demand in both large and mid-size enterprises. "
Janco says the mean compensation (including bonuses) for all IT executive positions it surveyed is $142,753 (a decrease of 0.11 percent) in large enterprises and $123,728 (a decrease of 1.83 percent) in mid-sized firms.
The size of the employer matters. "In mid-sized enterprises, the mean total compensation for all positions has fallen slightly from $73,905 to $73,439. At the same time in large enterprises, the median compensation has risen slightly from $82,475 to $81,652. "
Among the factors cited for the decline: "Companies are reducing benefits (including personal and company bonuses) provided to IT professionals; many companies have instituted hiring and spending freezes in addition to [layoffs]. " Benefits such as health care are still offered, but workers are paying a greater percent of the cost. Many companies have stopped contributing to employees' 401(k) accounts. Janco also reports that some perks, such as flexible hours and work schedules, are less frequently available.
The study surveyed 28,869 people in midsize companies and 22,368 people in large companies. The study defined a large company as having more than $500 million in annual revenue. A mid-size company was defined as having more than $125 million in annual revenue.
---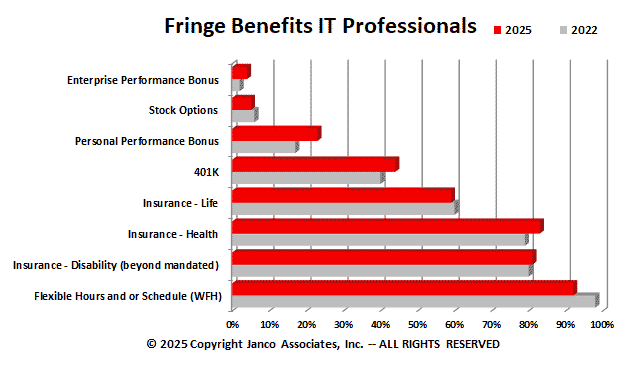 The latest fringe benefit analysis for IT professionals is updated during the creation of Janco's IT Salary Survey
---
Fringe Benefits 2009
Order Salary Survey Download Sample Provide Data