Total number of IT jobs up 47,500 in January
One in four organizations is looking to hire additional IT staff within the next month - IT is not expected to regain all of the jobs lost during the 2007-09 recession until 2013
Janco Associates reports that the IT hiring picture improved for IT staff level positions. There was a net increase of IT jobs in January according to the latest BLS data. All sectors of the IT job market showed an improvement - computer system design and related services accounted for 34,200 jobs, telecommunications 10,200 jobs, data processing hosting 2,200 jobs and other information services 900 jobs. In the last three months there has been an increase of 140,300 jobs (see table below) with over 100,000 jobs added in computer system design and related services. The CEO of Janco, M.V. Janulaitis said, "Companies are now starting to look ahead and commit resources to implementing new business solutions. " He added, "In a just completed survey of 107 organizations' hiring trends, Janco found that 25% of them are now looking to hire additional IT staff within the next month. This is a marked improvement over previous periods. "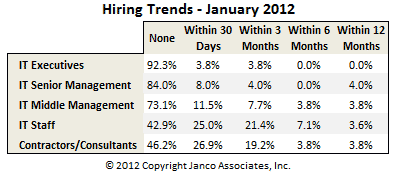 In Janco's Salary Survey which was released in January, Janco reported that salaries have remained flat in large organizations and had a slight increase in mid-sized and small enterprises.
The IT job market showed an increase in the number of jobs available, See chart below.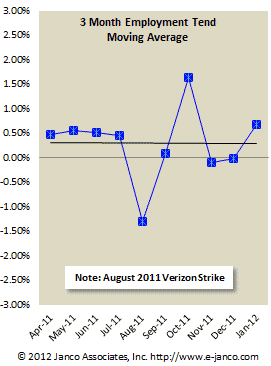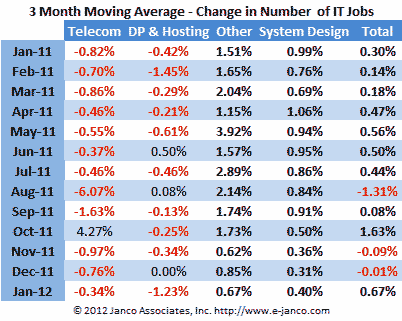 Employment grew in the second and third quarters despite very slow GDP growth because labor productivity fell the first half of 2011. Consequently, real wages, per capita income and living standards are dropping - all exacerbated by hungry state and local tax collectors who refuse to tighten belts as quickly as households and businesses.
Job Market Employment Trends
The Labor Department has reported the economy added 243,000 jobs in January, 200,000 jobs in December, 120,000 jobs in November and 80,000 in October. This continues to be lower than the number of jobs needed for the US economy to stay even with adult population growth.


Health Care vs. Financial Services Job Growth



Currently health care, social assistance and professional and business services are projected to have the fastest job growth between 2010 and 2020. Despite the projected growth, IT employment is not expected to regain all of the jobs lost during the 2007-09 recession until at least 2013.
According to BLS data occupations in which on-the-job training such as IT is common, employment is expected to grow rapidly. In addition, in occupations in which a master's degree is typically needed for entry, employment is expected as well.
Order Salary Survey Download Sample Provide Data