Telecom, IT Jobs On Rise
Telecom, IT Jobs On Rise - The IT industry last month added 47,500 jobs, Janco Associates announced Friday, citing data from the U.S. Bureau of Labor Statistics.
All sectors of the IT industry benefitted from job growth, according to Janco, which reported that the telecom industry added 10,200 jobs. Computer system design and related services were responsible for 34,200 jobs while data processing hosted added 2,200 jobs and other information services generated an additional 900 jobs, Janco announced.
Overall, the U.S. economy added 243,000 jobs, beating economists' expectations, while the unemployment rate (8.3 percent) dropped to its lowest in three years, The Associated Press reported.
Updated with the latest IT Job Market statistics
Historic IT Job Market Growth Trend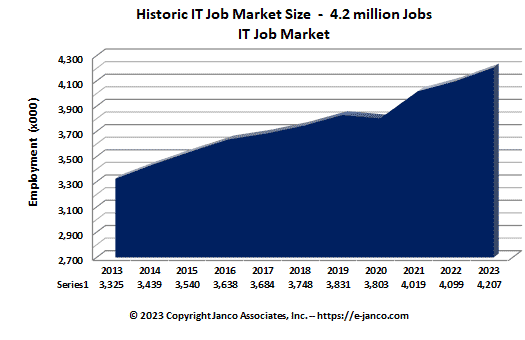 For current analysis of this data, go IT Job Market Size to see the historic job market growth trend data
Data as of September 2023
"Companies are now starting to look ahead and commit resources to implementing new business solutions," said Janco CEO M.V. Janulaitis in a statement. "In a just completed survey of 107 organizations' hiring trends, Janco found that 25% of them are now looking to hire additional IT staff within the next month. This is a marked improvement over previous periods. "
January's figures reflected an improvement over the previous month, when the telecom industry lost 4,100 jobs although overall U.S. employers added 200,000 jobs in December.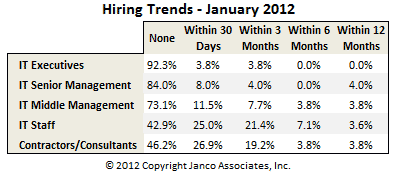 Order Salary Survey Download Sample Provide Data