Upward Spike in Short Term Hiring of IT Staff and Consultants
Short Term Hiring of IT Pros. Janco continues to monitor the IT employment picture and sees a mixed view of the IT job market. Janco has found that short term hiring for IT staff and consultants is up, however long term CIOs do not feel that hiring will improve significantly for until early in 2013. The CEO of Janco, Mr. Victor Janulaitis said, "In interviews of 110 in late January and early February of US based CIOs we found that most have a number of short term needs that need to be filled for additional staffing of a 'temporary' nature. CIOs are striving to keep the overall FTE (full time equivalent) headcounts level and do not project an increase within the next several months. "

This chart is not the originally published one, rather it is updated with the current data based on the analysis by Janco Associates, Inc. For the latest IT Employment Data click here.
---
One of the bright spots during the past few years has been government employment. That seems to be coming to an end with the proposed 2013 federal budget. The current administration proposed a decrease in federal IT spending in 2013, the budget calls for spending $78.8 billion, a 1.2 percent decrease from 2012.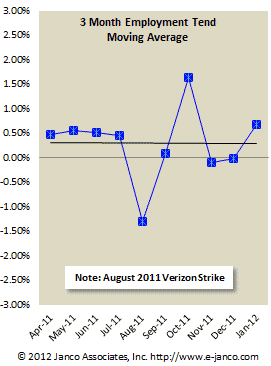 Janco's findings are validated by the latest BLS data which shows there was a net increase of IT jobs in January. All sectors of the IT job market showed an improvement - computer system design and related services accounted for 34,200 jobs, telecommunications 10,200 jobs, data processing hosting 2,200 jobs and other information services 900 jobs.
Order Salary Survey Download Sample Provide Data