How strong was job growth ?
BLS does not aggregate jobs in a logical manner for IT
How strong was job growth? - Janco Associates, which draws on the freshest Bureau of Labor Statistics data (PDF) to track IT hiring trends in the United States. By the company's reckoning, IT job market growth slowed to 4,200 new jobs in December versus 8,700 added jobs in November. For the entire year, IT gained 62,500 jobs, a 2.22 percent increase from around 2,813,000 to 2,876,000.
Historic IT Job Market Size - 4.2 Million Employed as IT Pros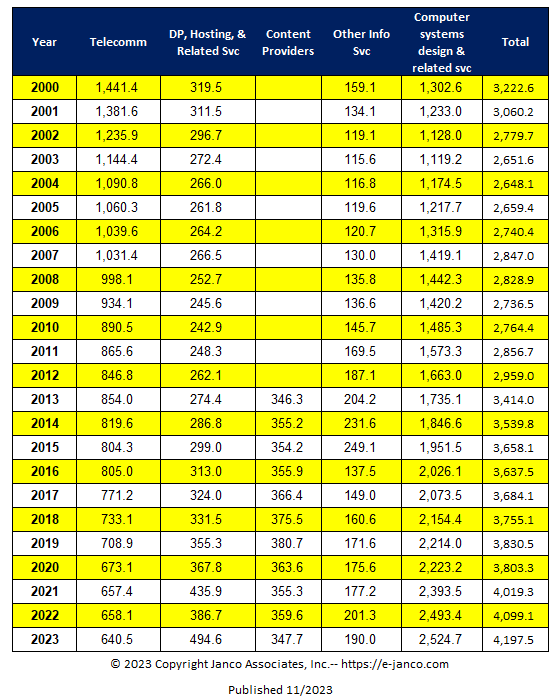 This is not the original data that was published.
It has been updated with data complied by Janco Associates with data as of November 2023.
Trouble is, some of the job data pulled from the BLS arguably doesn't quite fit the category of IT jobs, and much of that has to do with the way the Bureau itself gathers and presents its data. Here are the datasets the company used:
"Computer systems design related services" jobs, a huge category that lumps in computer and mathematical occupations -- developrs, DBAs, and network admins -- with decidedly nontechie jobs, such as managers, registered nurses, firefighters, and sales positions. According to BLS, this massive pool of jobs increased by 5.17 percent from 1,558,000 to 1,638,000 in 2012.
"Data processing, hosting, and related services" jobs, which include computer programmers, support specialists, systems analysts, and software developrs. This pool started year at 242,500 and ended at 240,900, a -0.66 percent change.
"Other information services" jobs (editors, first-line supervisors, librarians, library assistants, and library technicians) increased from 166,500 to 170,600 (2.46 percent) during 2012.
"Telecommunications" jobs (customer service reps, electronics engineers except computer, first-line supervisors and managers, telecom equipment installers and repairers, and telephone operators) dwindled from 846,900 to 826,400 (-2.42 percent).
Labor Participation Rate in the low 60's
Inflation is pushing more people back into the active labor market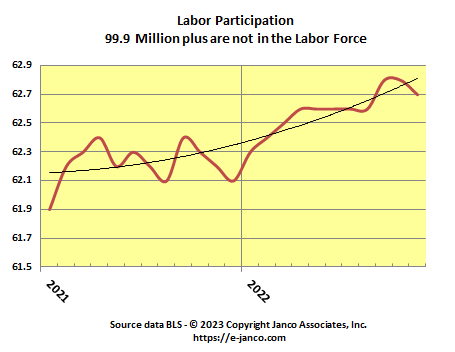 99.9 million people in the U.S. are not counted in the labor force - see reasons why not working.
---

IT Hiring Slows


The latest data for more read on...

Note - data includes the adjustments by the BLS to the initially reported data.

---