Janco Reports Good News for IT Professionals - Salaries are up
IT Pros see an improvement in pay according to Janco's IT Salary Survey
Park City, UT - Janco Reports Good News for IT Professionals - Salaries are up - The IT Salary Survey, just released and eJobDescription.com, is good news for IT Professionals. The survey shows that hiring and salaries have improved for IT positions in most North American metropolitan areas.
Order Salary Survey Download Sample Provide Data
The CEO of Janco, Victor Janulaitis stated, "Salaries are up 1.98% for IT pros in the past 12 months and the big winners are CIO - especially those in larger enterprises. "Mr. Janulaitis also said, "Our study also found that the average tenure for CIOs has moved up to 4 years 3 months from 4 years 2 months last at this time. "
Janulaitis added, "Janco's findings from its analysis of the data from the 2013 IT Compensation Study are mixed - some good news - some not so good. " The findings are:
IT compensation has increased by 1.98% in the last 12 months.
Between January 2012 and January 2013 the total mean compensation for all IT Professionals has increased from $77,773 to $79,312. This puts overall compensation back at the levels they were at in January 2008 and 2007.
In mid-sized enterprises, the mean total compensation for all positions has increased by 2.39% from $74,016 to $75,784.
In large enterprises, the median compensation has risen 1.61% from $81,531 to $82,840.
Over the long term IT executives have fared better in mid-sized companies than large companies.

In mid-sized companies IT executive salaries have recovered all of the losses sustained in the recession except for only a few cases.
In large companies IT executive salaries are just below what they were in 2008.

CIOs compensation has increased in the past 12 months - the mean base compensation is higher and bonuses are about the same as received in the prior year. The mean compensation for CIOs in large enterprises is now $182,210 (an increase of 6.04%) and $165,820 (an increase of 1.6%) in mid-sized enterprises.

Median CIO tenure has increased from 4 years and 2 months to 4 years and 3 months. This is one of the primary drivers for increased compensation for that position.

In 2012 the IT job market grew by 62,500 jobs according to the Bureau of Labor Statistics (BLS).
Companies are continuing to refine the benefits provided to IT professionals. Though benefits such as health care are available to 82%, IT professionals are now paying a greater portion of that cost.
Positions in highest demand are all associated with the quality control, records management, and data center operations management.

Mandated requirements for records management systems and electronic medical records have increased the demand for quality control staff and custodians (librarians) of mechanized records.

Cost control is still the rule of the day; however we have seen an increase in the number of "part-timers" and contractors who are focused on particular critical projects.

Lay-offs seem to have tapered off, however some companies continue to cut the size of the IT organizations.

Outsourcing has peaked and companies are looking to bring IT operations back into their direct control.

A number of enterprises are moving help desks and data center operations in-house which has resulted in an increase demand for data center managers.
The survey includes data from 249 large and 785 mid-sized organizations with anywhere from a single data point to over 625 for particular respondents. The data was captured in the last quarter of 2012.
Janco has captured IT compensation data since 1996 and publishes its IT Salary Survey semi-annually. The IT Salary Survey is based on Janco's IT professionals' compensation database. Compensation benchmark hiring and salary ranges are established for each position surveyed. In analyzing the study data, the upper and lower quartiles are eliminated to determine the benchmark ranges. The benchmark ranges are then used to assess the alignment of a company's actual compensation to the marketplace for each job function. A summary of the most recent salary survey can be downloaded by visiting Janco IT Salary Survey at https://www.e-janco.com/salary.htm.
Changes in IT Median Salaries
---

NOTE: The graphic below is updated with each new IT Salary Survey. The chart compares the data from the period of the survey to prior period.
---
Latest Median IT Salaries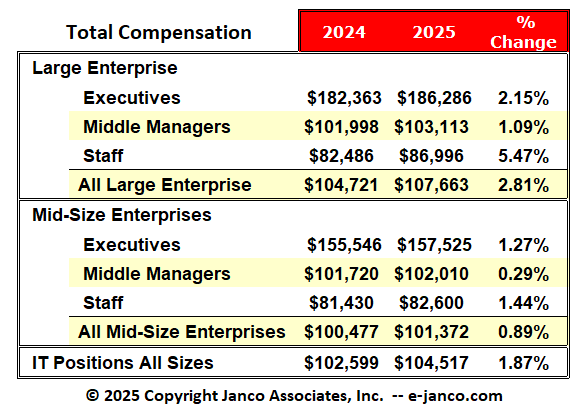 For the latest data go to the current IT Salary Survey
---
Benefit Trends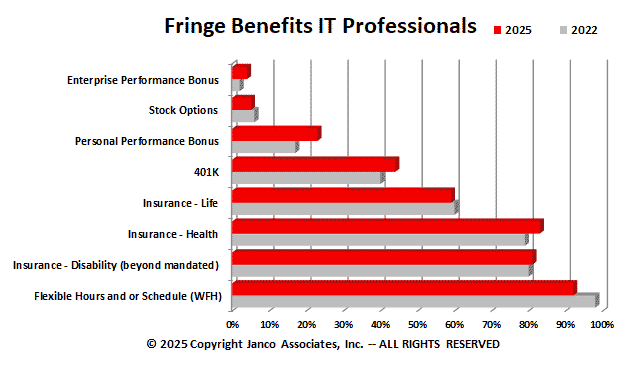 CIO Tenure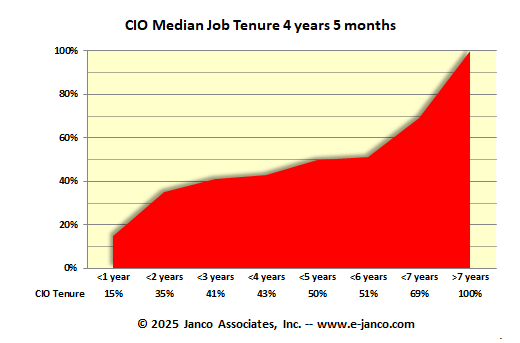 Updated to the latest data. Read On...
Order Salary Survey Download Sample Provide Data