IT hiring slowed - Budget sequestration may chill market
by Patrick Thibodeau
Budget sequestration may be helping to chill market
Computerworld - WASHINGTON - IT hiring slowed - Budget sequestration may chill market - After a decent start earlier this year, IT hiring is slowing down.
Despite a 203,000 increase in the overall number of jobs added to the U.S. economy in November, an analysis of hiring by two independent groups shows decreasing demand for IT pros. That trend has become apparent over the last several months.
Historic IT Job Market Size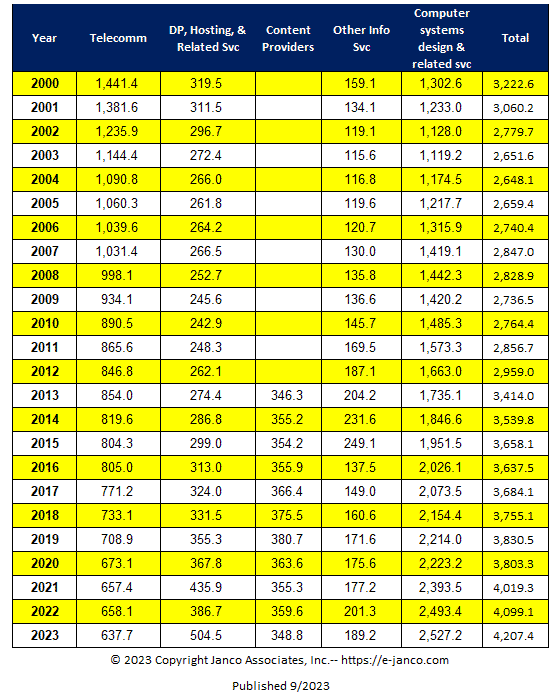 Data complied by Janco Associates with data as of September 2023

In the last three (3) month the IT Job market grown by 21,500. This chart is not the originally published one, rather it is updated with the current data based on the analysis by Janco Associates, Inc. For the latest IT Employment Data click here.
---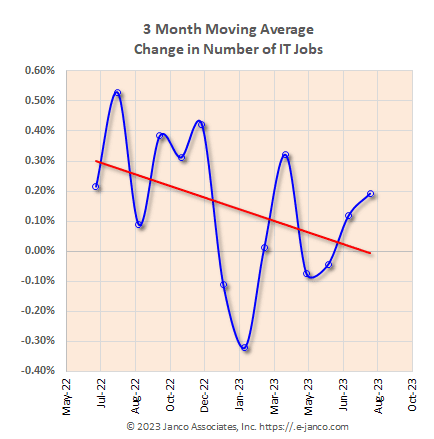 A robust hiring trend for IT Professionals - the recovery is slowing however, there are a number of jobs unfilled by IT Pros. The primary culprit is the lack of qualified individuals to fill the open positions. In our opinion, the IT Job Market is currently at no growth!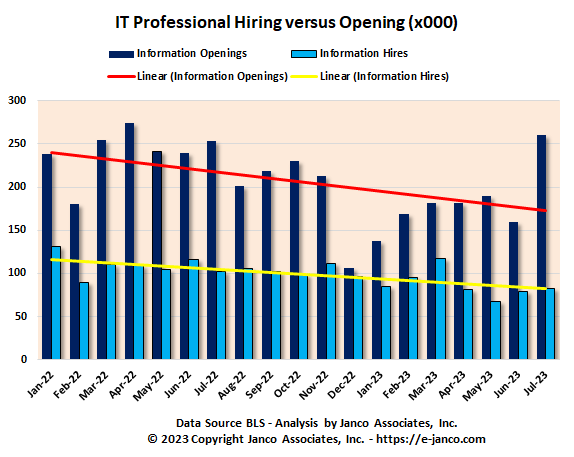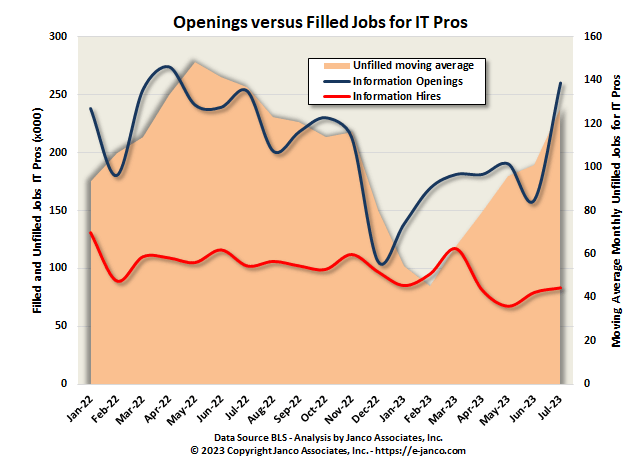 Based on BLS data analyzed by Janco in the first 3 quarters of 2022 an average of 200K IT jobs remained unfilled due to a lack of qualified individuals. In 2023 the number of unfilled jobs has fallen to around 100K.
The number of unfilled jobs trend line is down as the economy softens and CIOs and CFOs look to control costs and eliminate requisitions for positions that cannot be filled. There was a major pullback of the number of excess jobs for IT Pros occurred in December - layoffs have impact on number of unfilled jobs available for IT Professionals.
By Janco's count, only 400 IT jobs were added last month, 4,300 in the last three months and nearly 71,000 this year.
Victor Janulaitis, the CEO of Janco, said the IT job situation is unlikely to improve -- especially once a new round of government mandated cuts, sequestration, hits the defense industry. That's because defense firms employ many people in states with large IT populations, including California, Washington, and Virginia.
"I think the recovery is on spotty ground at this point in time," said Janulaitis. He said CIOs are becoming more cautious on hiring, based on his survey over the last two weeks.
The analysis, by TechServe Alliance, an industry group, reports that IT hiring expanded by 3,200 jobs in November, 3,100 jobs in October, and 6,100 jobs in September. Those numbers are well off the hiring gains posted earlier this year.
From June to January of this year, the number of new IT jobs added on a monthly basis ranged from about 20,000 to just over 30,000, according to TechServe. "We are noticing a clear deceleration in the rate of growth," said Mark Roberts, the CEO of TechServe.
Nonetheless, there have been 28 months of consecutive job growth in IT. The total IT employment base is now 4.5 million, up 180,200 jobs this year, the group said.
Roberts blamed the slowdown on a variety of factors, including waning confidence and the ongoing government impasse on spending.
The Conference Board recently reported that its consumer confidence index decreased sharply in October and again in November. Consumers expressed "greater concern about future job and earning prospects," the Board said.
Incidentally, a trade group in North Carolina that tracks IT hiring in that state, noted a decline in hiring as well. "This drop came unexpected as many job markets swing up during the fall," reported the North Carolina Technology Association.
In analyzing IT hiring, some firms such as Janco Associates limit the types of IT occupations they study, and use a data set that's smaller than that used by TechServe. But Janco still sees the same trend.
---

IT Hiring Slows


The latest data for more read on...
Data points to a slowing in the hiring of IT Professionals with 21,500 jobs added in the last 3 months. That is just reoveriing from the "big tech" layoffs in the latst quarter of 2022
Note - data includes the adjustments by the BLS to the initially reported data.

---
Order Salary Survey Download Sample Provide Data