Janco Associates finds 29 CIOs made over $1 million in total compensation
The top tier of CIOs receive most of their compensation in the form of stock and other compensation
Park City - UT - Janco Associates finds 29 CIOs made over $1 million in total compensation - CIOs making over $1 million - Janco Associates has reviewed the compensation for hundreds of CIOs and has identified 29 CIOs who made over $1,000,000 in 2013. The CEO of Janco, Mr. MV Janulaitis said "To compile this list we used public data from the SEC, Janco proprietary data base, and other financial research firms public data. We also know of several additional CIOs whose compensation is over $1 million, but that data is not public so they were not included on this list. " The CEO said, "The striking component of the compensation plans for each of the executives that made this list is that none of them got on the list with a base salary of one million. They all get "other" compensation (mostly stock) that is between $12.5 million to $655,000. " Janulaitis added, "It was only 1987 when the first Million Dollar CIO, DuWayne Peterson at Merrill Lynch, was identified. Now it is almost normal for these high powered executives to be in that club. "
---

Top Paid CIOs & CTOs - Latest Data - Fall 2023
---
In comparing this list with last year's, Janco found that most of the CIOs on the 2013 have maintained their high compensation levels with increases in both base and "other" compensation. Those that have left the list have retired (2), been promoted (1), or left (for a new opportunity / been terminated) (5). Even on this current list there are 3 CIOs who are no longer with these companies.
Order Salary Survey Download Sample Provide Data
In addition to its analysis of CIO compensation, Janco publishes, in January and July an IT Salary for 73 high demand IT positions in over 100 metropolitan areas in North America. You can get more information on Janco's products at https://e-janco.com/products.html.
Janco is an international consulting firm that follows issues that concerns CIOs and CFOs and publishes a series of IT and business infrastructure HandiGuides® and Templates including a Disaster Recovery/Business Continuity Template, Security Template and IT Salary Survey.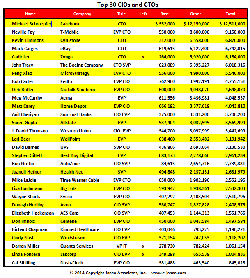 Click to enlarge