More CIOs and CFOs are optimistic about investments in technology
In spite of the slow growth technology investments, CIOs and CFOS are more optimistic
Park City - UT - More CIOs and CFOs are optimistic about investments in technology - www.e-janco.com - Janco's analysis of the latest BLS data shows that the rate of increase of new IT job creation continues to fall behind the pace of every year since 2012. On bright side a number of CIOs has been asked to plan for more investments in technology even as 2017 budgets have been approved for low or no growth. The CEO of Janco Associates, Inc., Mr. M. Victor Janulaitis said, "The recent election has resulted in a new perspective of growth in the use of technology. If as the new administration says, taxes will go down, infrastructure spending will go up, and jobs will be kept in the US then productivity will be the key." He added. "With the amount of spending that is proposed there will be need to get more 'stuff done' with US based resources. The only option will be IT technology as a driver of infrastructure improvement."
All of that comes at a time the labor statistics from the BLS show an economy that is suffering with over 95 million individuals not even in the labor force with an unemployment rate that is 4.6% - the lowest it has been for over 8 years.
---
Historic U.S. Unemployment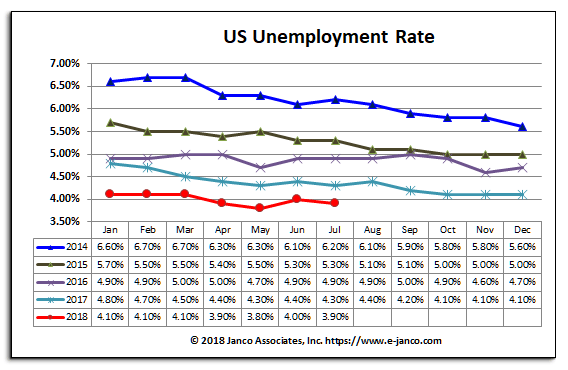 For current data go IT Job Market Employment Data
---
Janco interviewed over 118 (42 after the election) CIOs in the last several weeks as part of its planning for the 2017 IT Salary Survey ( https://e-janco.com/salary.htm ). Janco's CEO said, "CIOs interviewed after the election are optimistic that things will improve with the new administration. Those interviewed before the election were more pessimistic. CIO hiring forecast by job levels within the IT function shows that long term hiring plans for both IT Staff and 'contractors/consultants' are viewed to be improving."

This chart is not the originally published one, rather it is updated with the current data based on the analysis by Janco Associates, Inc. For the latest IT Employment Data click here.
---
Janulaitis, said, "Janco forecasts the growth of IT jobs for all of 2016 will be at the levels of 2012 when the economy was trying to recover. It is too early to tell what the total impact will be on IT job creation in 2017." He added, "With all of the proposed incentives from tax cuts for businesses, 'buy American', improved trade deals, and immigration reform we could be in for an economic boom. However, the latest IT job data from the BLS does not provide any basis for that conclusion."
Read on Salary Survey Order Salary Survey Download Summary
The CEO added, "In reviewing the last 24 months of data on new IT job creation, it is very clear that there has been a downward bias in the number of new jobs created." He added, "In direct interviews with 76 CIOs and CFOs (before the election) we found that they have budgeted for slower growth in 2017. Few of these C-level executives were comfortable with the overall direction of the economy and prospects for new IT jobs. This also is reflected in acquisitions for new equipment and major application developments and implementations. Many of these executives werehedging their bets and forecasting flat to lower budgets for the new year. A common thread we heard that it will be easier to come back and get more monies than to have to cut spending after the new year starts." He added, "However, after the election a much more optimistic view was provided."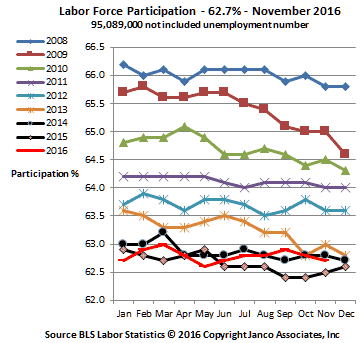 The CEO also said, "Even before the election, many CFOs were not adverse incremental spending for IT related activities that have operational support and have a good ROI."
Janco is an international consulting firm that follows issues that concern CIOs and CFOs. The firm publishes a series of IT and business Infrastructure HandiGuides® and Templates including IT Infrastructure Policies and Procedures, Disaster Recovery/Business Continuity Template, Security Template, IT Job Descriptions, and its semi-annual IT Salary Survey.