IT Governance Infrastructure, Strategy, and Charter Template released by Janco
IT Governance Infrastructure, Strategy, and Charter Template now includes job descriptions for the CIO, CTO, CSO, Chief Digital Officer, Chief Mobility Officer, and Digital Brand Manager
Park City – UT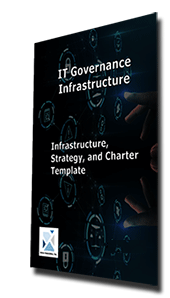 – e-janco.com – IT  Governance Infrastructure, Strategy, and Charter Template released by Janco. Janco Associates has just released Version 4.0 of its IT Governance Infrastructure, Strategy, and Charter Template.  This is the one book that every IT manager and C-Level executive needs to have. Included with this release is an eReader version of this template. The CEO of Janco, Mr. M. Victor Janulaitis said, "Companies have moved social media engagement and digital presentation to be a top agenda item – that needs to be addressed in the day-to-day governance of Information Technology. CEOs expect their CIOs and their IT Leaders' to help in navigating the organization through a complex digital and social evolution. This document is the one governance tool that is designed for this journey."
Janulaitis said, "Included within this tool are detail rules for how IT can be managed while meeting security and compliance requirements – including GDPR - and providing the necessary service levels for internal and external users of the enterprise's digital-based infrastructure."
The current version of the IT Governance Infrastructure, Strategy, and Charter Template includes every critical infrastructure issue: IT Management Structure; Personnel Practices; ERP and Omni Commerce; Compliance and Controls; Security and Access Controls; full job descriptions for Chief Information Officer (both small and large enterprises) , Chief Technology Officer, Chief Security Officer, Chief Mobility Officer, Chief Digital Officer, and Digital Brand Manager; and much more.
The CEO added, "We created the IT Governance Infrastructure Strategy, and Charter Template in concert with a number of Fortune 500 enterprises to help them better govern and manage their digital environment."  In addition, he said "This is the eighth of our infrastructure products that are now available as eReader (.ePub) electronic documents.  The other seven (7) are: Security Manual Template; Disaster Recovery Business Continuity Template; IT Infrastructure Policy Bundle (20 critical policies); IT Job Descriptions (300); Interview and Hiring Guide; IT Job Family Classification HandiGuide; and  Safety Program. For more information go to https://e-janco.com/epub.html.
All of Janco's products are delivered electronically in ready to implement formats that are easily customizable by the user. Janulaitis said, "We have clients in over 100 countries that rely on our leading-edge products. We continue to be on the forefront of IT governance and infrastructure management as that is the strength of the firm. Over 2,400 companies have already selected one of Janco's  templates to be the foundation for managing this complex operational discipline. "
Read On Order IT Governance Strategy Download Sample
Janco is an international consulting firm that follows issues that concern CIOs and CFOs. The firm publishes a series of IT and business Infrastructure HandiGuides® and Templates including IT Infrastructure Policies and Procedures, Disaster Recovery/Business Continuity Template, Security Template, IT Job Descriptions, and its semi-annual IT Salary Survey.