2018 banner year for IT job market growth according to Janco
Over 80,00 new IT Jobs will be created despite a shrinking of telecommunications jobs by over 26,600
Park City – UT – e-janco.com – The IT job market is the best it has been in some time with 76,500 new IT jobs created in the January thru November period according to Janco Associates Inc. Janco 's projected growth of 7,000 IT job in December means approximately 83,500 new IT jobs will be created for the year.
The CEO of Janco Associates, Inc., Mr. M. Victor Janulaitis said, "The current economic recovery continues to create demand for IT Professionals.  Several new positions with new responsibilities have been added to address Robotics, IoT, SEO, Social Networking, Compliance Mandates, and Identity Management.  He added, "CIOs are creating new jobs that address the increased focus on Internet-based operations, compliance, and digital automation.  It now not unusual to see positions like SEO Specialists and IoT – Robotics Analysts added to the mix of IT professionals that are being recruited. In our just released 2019 IT and Internet Position Descriptions HandiGuide there now over 300 unique job descriptions defined and include these new positions."
The CEO said, "From an infrastructure point of view, job descriptions which clearly define necessary skills and the roles/responsibilities need to be updated as the expansion of IT processes.  To help address this, Janco has updated its IT Job Descriptions (https://e-janco.com/it-job-descriptions.htm) to address not only the technological components but also the roles and responsibilities to meet the latest digital marketing and mandated compliance requirements.  All of our products are now being updated to reflect these changes."
Janulaitis noted, "IT Pros are much more mobile as they have the luxury of a great job market. This has increased the attrition rates within the IT function in many enterprises. For the first time in several years, CIOs are now dealing with staff retention issues.  To combat this, many organizations have budgeted across the board increases in compensation for 2019 and are increasing current compensation for key IT Pros immediately as a way to minimize potential loss of key staff. "
Analysis of IT Job Market growth shows that in 2018 there has already been an addition of 76,500 new jobs.  That is 20,100 more new jobs than were created in the same period of 2017.  Janco conducted several spot interviews with two dozen CIOs in the last two weeks of November.  All of those interviewed said they were actively recruiting for IT professionals for new development activities and replacements for those who have left in the last few months. Attrition rates are the highest they have been in the last several years. Janco also found that several organizations have slowed the hiring process as they work to absorb the new hires.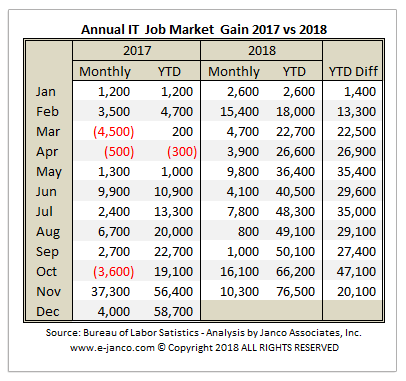 Initial data from Janco's 2019 IT Salary survey shows a significant increase in compensation for IT Professionals a demand has impacted a limited supply of qualified IT professionals. The 2019 IT Salary Survey will be released in early January.
The CEO of Janco added, "IT and HR recruiting managers are optimistic.  They are focusing on additions to the IT staff as they begin the new year. However, the recent stock market corrections and the increase in the interest rates has caused concern."

In the last three (3) month the IT Job market grew by 4,300. This chart is not the originally published one, rather it is updated with the current data based on the analysis by Janco Associates, Inc. For the latest IT Employment Data click here.
---
Janco's CEO said, "CIOs are optimistic that the economy will be one that will foster growth. 2019 budgets for Information Technology are up in over 80% of organizations that we have surveyed.  A definite bullish sign."
Janco is an international consulting firm that follows issues that concern CIOs and CFOs. The firm publishes a series of IT and business Infrastructure HandiGuides® and Templates including IT Infrastructure Policies and Procedures, Disaster Recovery/Business Continuity Template, Security Template, IT Job Descriptions, and its semi-annual IT Salary Survey.